Alex Rodriguez + Derek Jeter, the New York Yankees RUMORED rivals joined forces for charity BTIG Charity Day.  Derek Jeter was NOT hearing CNBC dirt digging!
The Yankees infielders Alex Rodriguez and Derek Jeter weighed in on charity, but kept having to deflect rumors, MET Gala questions and more…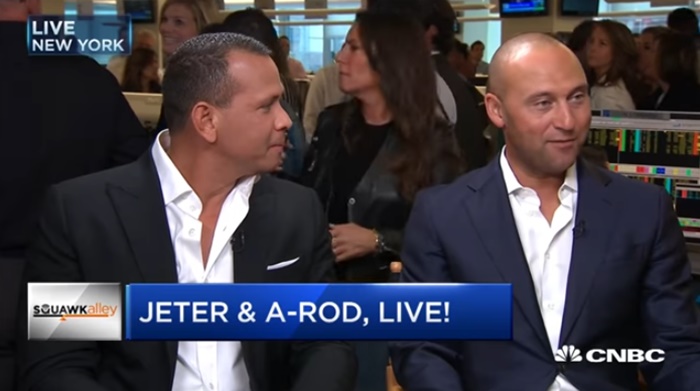 Why is it so hard for athletes to talk about something that is positive? We guess CNBC reporters can't help themselves to bring up 20-year-old rumors and nonsense.
During the interview, Alex Rodriguez and Derek Jeter had their bats ready as they had to hit foul balls and curve balls thrown by the CNBC reporter. Apparently he didn't get the hint three times that they are only here to talk about charity, NOT JLO, The Met Gala, reports that Jeter is trying to buy the Miami Marlins or RUMORS about their 20-year-old feud.
Alex Rodriguez and Derek Jeter have obviously put their differences behind them, but the media is still trying to dig up dirt.
Sorry CNBC, Derek Jeter was NOT hearing any of it, and kept shutting their reporter who stated he's been coming to the event for 15 years. Despite their MLB days and dislike of each other on the field the two men now tolerate each other. Watch how hard it is for Jeter and A-Rod in keeping the CNBC reporter on task. He just couldn't help to try and be like Harvey of TMZ. Sorry bro, let the tea spilling for the experts like us!
Every-time CNBC was in their reporters each telling him to dig for dirt, both A-Rod and Jeter kept fake laughing in that Tom Cruise sort of way. Yes, it was more like "hey buddy can you talk about the charities and not the bullshit!"
The tension was a bit thick, watch: