Over the weekend, Andy Ruiz Jr. shocked the sports world after he knocked heavyweight champion Anthony Joshua down to the ground some four times ultimately winning when the ref stopped the bout in the seventh.
Following the bout, Deontay Wilder and Tyson Fury weighed in on Anthony Joshua, but so did ESPN's Stephen A. Smith who completely disrespected Mexican heavyweight champion Andy Ruiz Jr. as a professional. Read on to see the social media feud…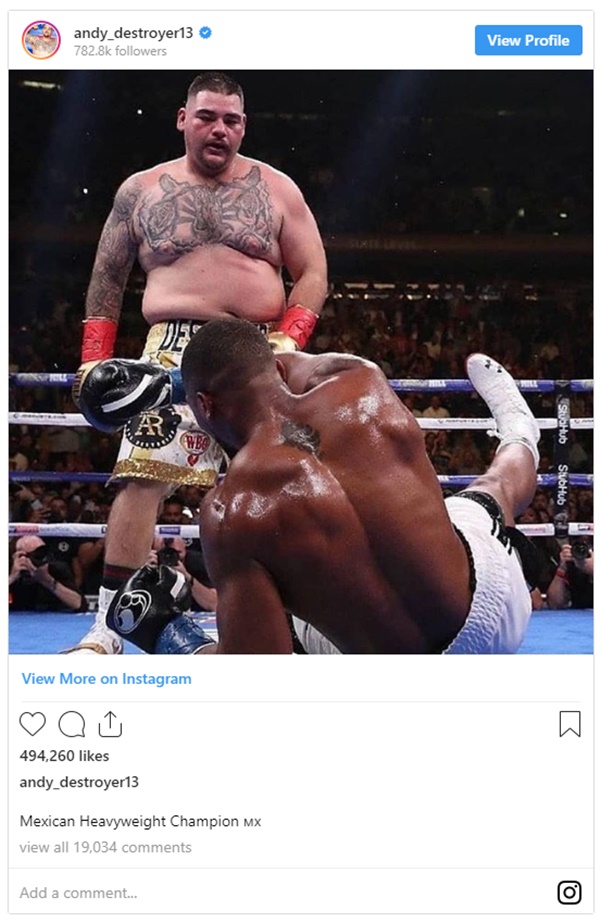 CelebNSports247.com reports ESPN's Stephen A. Smith took even further FIRING shots at the new reigning IBF, WBA, and WBO heavyweight champion of the world.
Stephen Smith Tweeted his criticism about Mexican heavyweight Andy The Destroyer Ruiz Jr.:
OMG! OMG! I cannot believe this S$&@$! Anthony Joshua — holder of 3 belts, gets TKO'd by Butter Bean…….I mean some dude named Andy Ruiz JR. What a damn disgrace. Joshua looked completely gassed! More fatigued than hurt! Now how in the Hell did you let that happen? How?
He added in more tweets:
I'm sick over this. For myself! For fight fans. And especially for Deontay Wilder — who should've been the one administering this TKO. I'm so freakin disgusted right now!

I watched the fight 3x. Look, Ruiz is good. Solid boxer. Fast hands. But everyone's missing the point: THE FIGHT we were all waiting for — Wilder vs. Joshua — is officially ruined. No one with sense believes Joshua has a chance vs him now, even if he goes back and beats Ruiz.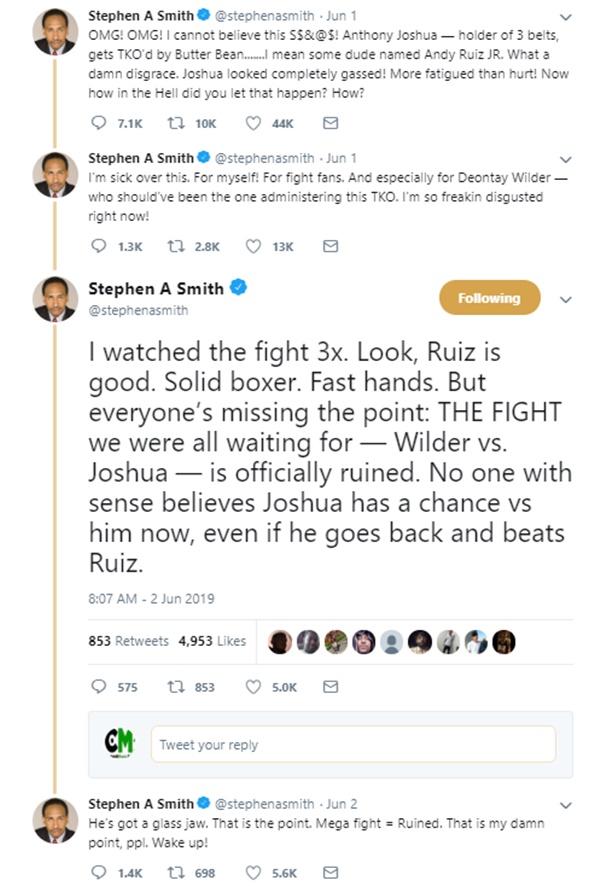 Andy Ruiz CHECKED ESPN's Stephen A. Smith telling him to do some research before looking stupid with unfactual facts.
Ruiz FIRED BACK saying:
I encourage you to do your research before insulting my career. I know boxing isn't your lane but if you are gonna talk about boxing please study and know what you are saying.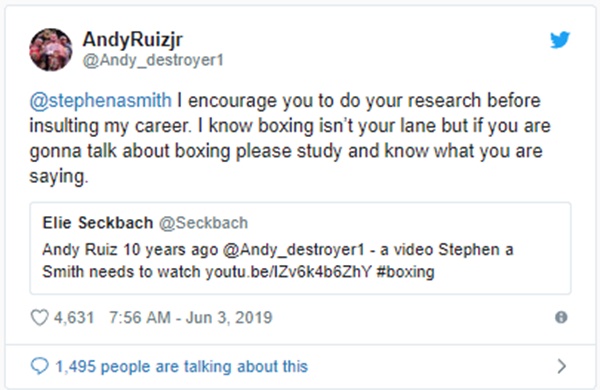 Of course, Stephen tried to save face for his remarks and then attack Ruiz by body-shaming him.
What I questioned was A.) How you looked physically (all due respect…..as has everyone else) and the fact that a megafight was ruined because Anthony Joshua got his butt whipped by you. A Megafight isn't just about the fighters themselves, but who people are actually salivating.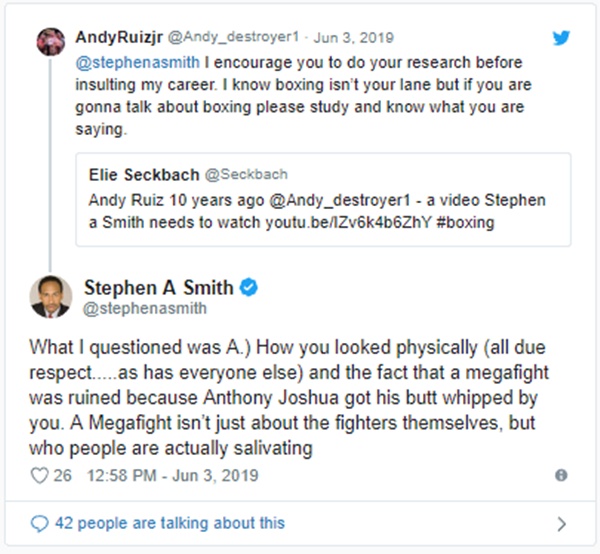 Despite, Stephen Smith's remarks Ruiz The Destroyer continues to move on thanking his fans: