Despite the numerous rumors, Oakland Raiders Antonio Brown made sure to let everyone know that he will not be playing for the Buffalo Bills.
Read on to see Antonio Brown's savage meme annihilating Buffalo…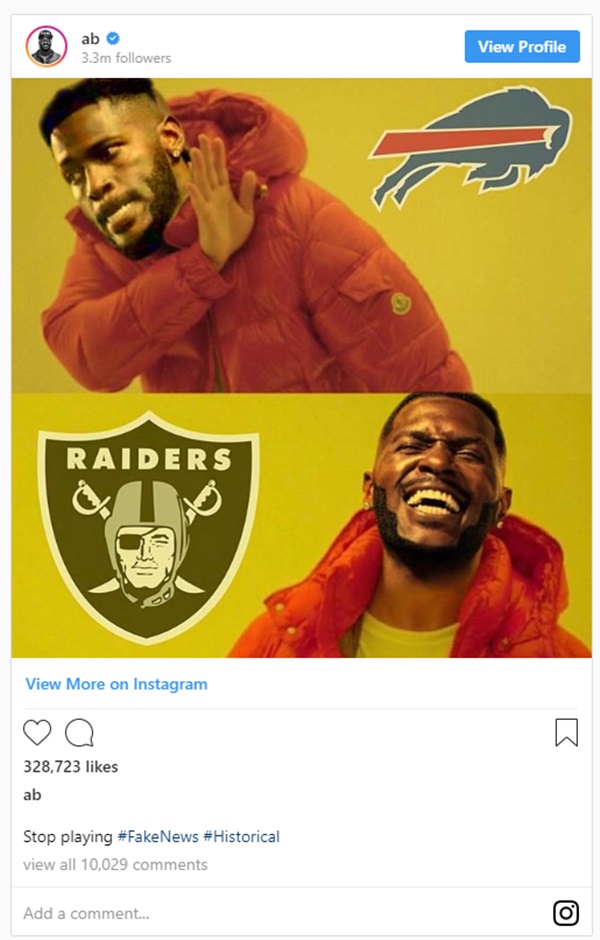 CelebNSports247.com reports that Antonio Brown made sure to put a reaction on Instagram to double-down on this and take a hilarious shot at the rumors he was headed to the Buffalo Bills.
Antonio Brown then made sure to debunk anyone who thought he was heading to Buffalo calling it FAKE NEWS!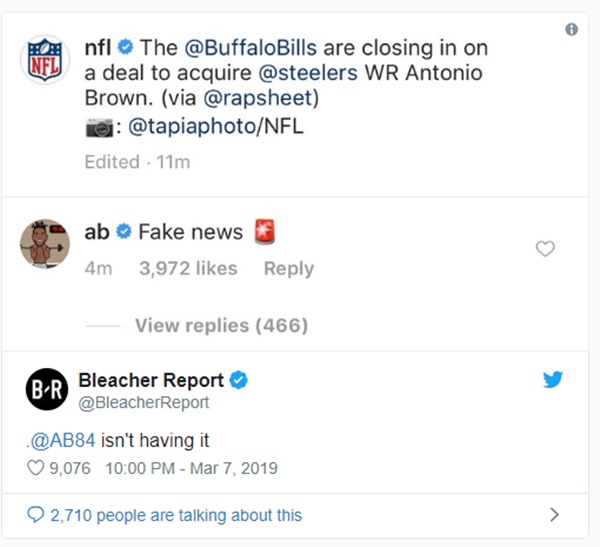 In additional news, Antonio Brown says Steelers Traded him out of Nowhere:
Pittsburgh Steelers head coach Mike Tomlin held his first interview about the departure of Le'Veon Bell to the New York Jets and the trade of Antonio Brown to the Oakland Raiders and he seemed to throw some shots at his former players.
Tomlin said:
We can't do this with hostages, man. We need volunteers. We need good players, good guys who want to be here and if guys can't check those boxes, it's probably best for all parties involved to go our separate ways.
Sports reporter for The NFL Network reports:
One of Mike Tomlin's big takeaways from the #Steelers' last season? "We all talk too much. We really do," he said. "It's about talking less and doing more."
Huh? What is that? it is so utterly wrong because it was Brown who requested the trade multiple times.
The statement got the attention of AB who responded saying:
Trade you off the team why you in your sleep ! Y'all showed me nothing guaranteed! #84/7
No matter, AB is staying focused and training hard to show the Steelers they F'd up:
View this post on Instagram