Cardinals receiver Larry Fitzgerald may be a team hero on the field but off the field his ex and baby momma, Emally Lugo is letting everyone know he is a deadbeat dad off the field.
Larry Fitzgerald just re-signed with the Cardinals for his 16th season, and it seemed like he was on top of the world about it. He posted a pic on Instagram saying "a fire burned inside of me my rookie year…a desire, over all else, to be great. To excel on the field."
Well, that is NOT how his ex and baby momma, Emally Lugo feels. She put him on BLAST on social media after he resigned a deal with an $8 million dollar signing bonus and an $11 million dollar base salary, so how is he a deadbeat dad? Read on…
CelebNSports247.com has the tea spill on Cardinals receiver Larry Fitzgerald from The Fumble who reports the NFL baller is on top of the world on the field, but off he's NOT taking care of his fatherly duties.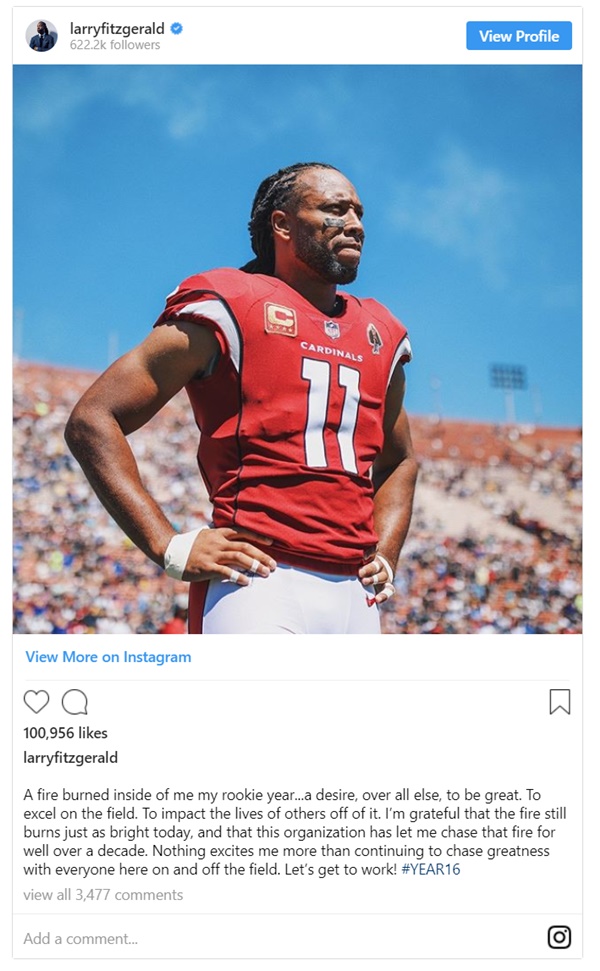 Now, Emally Lugo, took to social media in the comment section of one of his recent posts to set the record straight about Larry Fitzgerald calling him a deadbeat father.
Things like this are hard to hear especially when a man is making so much money. How could he just ignore his own son?
Lugo wants everyone to know that she wasn't a side chick and that her child wasn't the result of some sort of fling with the NFL star. She was in a long-term relationship prior to getting pregnant.

Lugo even provided some dates to prove that they had been together for a long time and a couple of pictures of Fitzgerald with their son, according to SportsGossip who spilled the tea first.
In a posted/delete Emally said on Tuesday:

Here is more photo evidence via Emally: