One thing for certain is that Kansas City Chiefs RB Darwin Thompson is one powerhouse muscled stud and he proved his speed is no joke on the field.
Darwin Thompson may be among the team's smallest players, but he makes up for it in speed on the field especially after the Chiefs' 38-17 preseason-opening victory over the Cincinnati Bengals. Read on…
? ANOTHER weapon in the #Chiefs offense?

Darwin Thompson ?#CINvsKC

(Via @Chiefs)

— PFF (@PFF) August 11, 2019
CelebNSports247.com reports that Chiefs running back Darwin Thompson got into the end zone on a 29-yard reception from Chase Litton in the third quarter and had one of the game's highlight plays.
Darwin Thompson ran through a tackle like it was nothing on his way to a 9-yard gain.
Thompson had this to say about the touchdown during the preseason game:
I proved a little bit, I proved 5-8, 195 (pounds), I can play in the NFL. I can break tackles. I can do the same things I did in college. Let me build on top of that.
Kansas City Chiefs made one smart decision drafting Thompson to the team this past April. Thompson was the Chiefs sixth-round draft selection in April. He played one season at Utah State, and has had a productive training camp.
The 23-year-old 5? 8? 201 lbs cornfed hunk proves that he has what it takes on the field and off. On the field he is a maniac with speed and agility. Off the field he is easy on the eyes and the ladies are loving every second of him.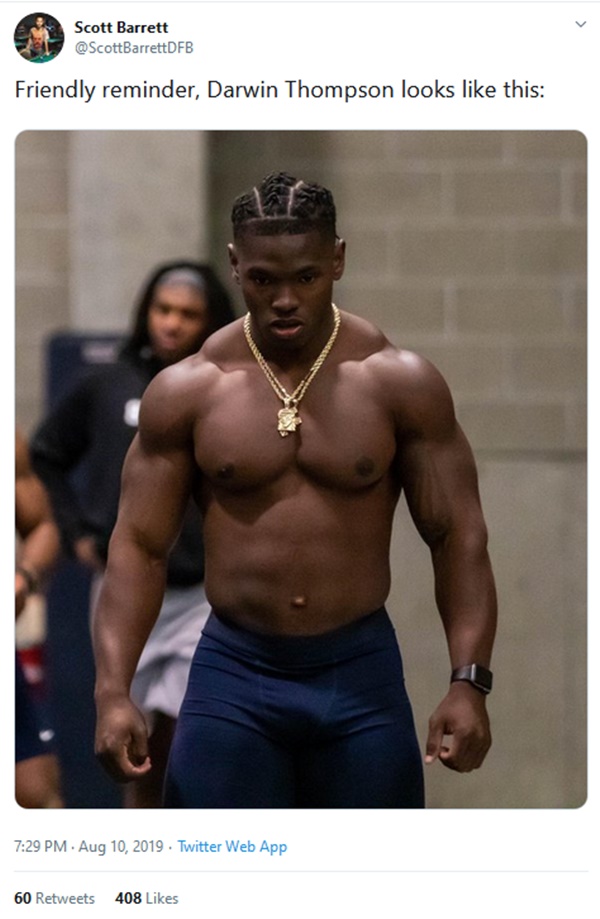 He posted this photo of himself rocking gold teeth last week:
View this post on Instagram
If that is not enough, then check out Darwin Thompson in a series of shirtless pics:
View this post on Instagram
Anyone up for eggplant for dinner?