Thomas Davis delivered one of the worst cheap shots of the season on Sunday when he blindsided Green Bay Packers WR Davante Adams. The hit was NEEDED for the Panthers to win, but it left Davante Adams needing medical attention.
Shortly after the game Davante Adams made sure to sound off on social media about being blindsided by Thomas Davis. Read on about Davante Adams getting blindsided…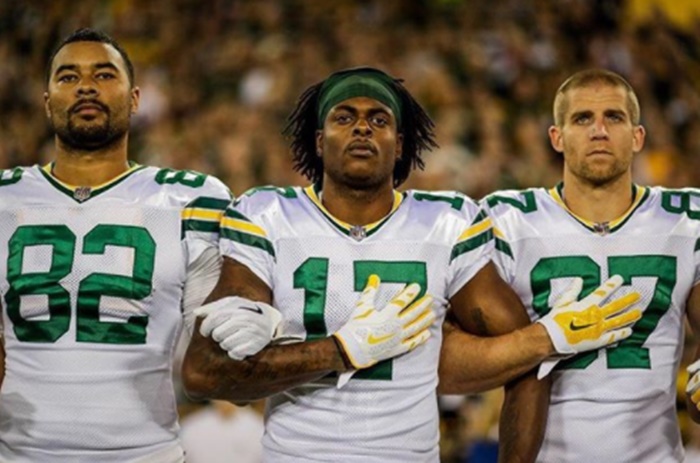 CelebNSports247.com has the latest from Davante Adams was PISSED about getting hit so hard and leaving him laid out on the ground and in need of medical attention.
The Carolina Panthers linebacker Thomas Davis was visibly upset at what he did to Green Bay Packers wide receiver Devante Adams, so he posted an public apology on social media:
"I understand your frustration and I do apologize for the hit! In no way was I trying to hurt you. My first instinct was turn and make a block. In all sincerity I do apologize. I truly respect you as a player and I made a mistake!"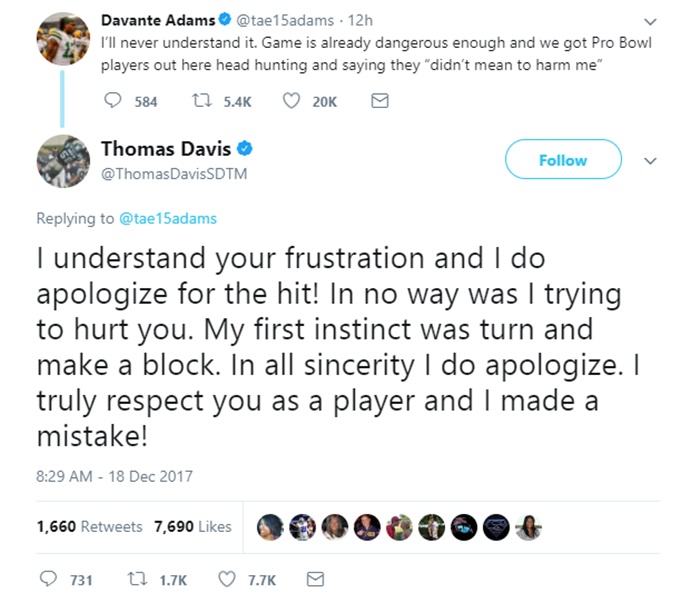 That wasn't enough for Green Bay Packers wide receiver Davante Adams.
Adams states:
"I'll never understand it. Game is already dangerous enough and we got Pro Bowl players out here head hunting and saying they "didn't mean to harm me!"
He went on to saying:
"Somebody please explain to me what I wasn't trying to hurt him means when we nowhere near the play and u lead with ya head and ear hole a defenseless player…."
Devante was far from done, he continues:
[rpi]
"Look it's football but no room for shit like that. We supposed to be in this together n look out for one another not mess with a mans livelihood and hand out unnecessary concussions. We all got mouths to feed what if I did that to him and his kids cant eat…"
He concludes:
"Not the type to rant but when u go through this shit twice in a year it takes a lil toll on u so excuse me."
We get it, here are his tweets: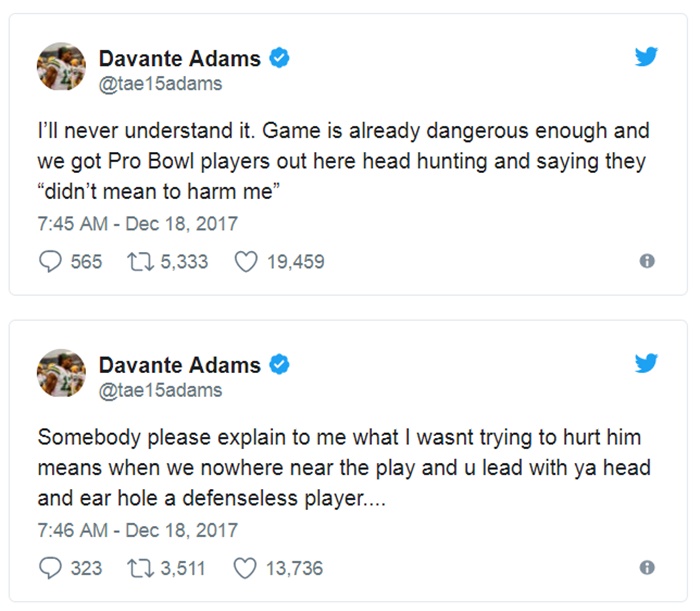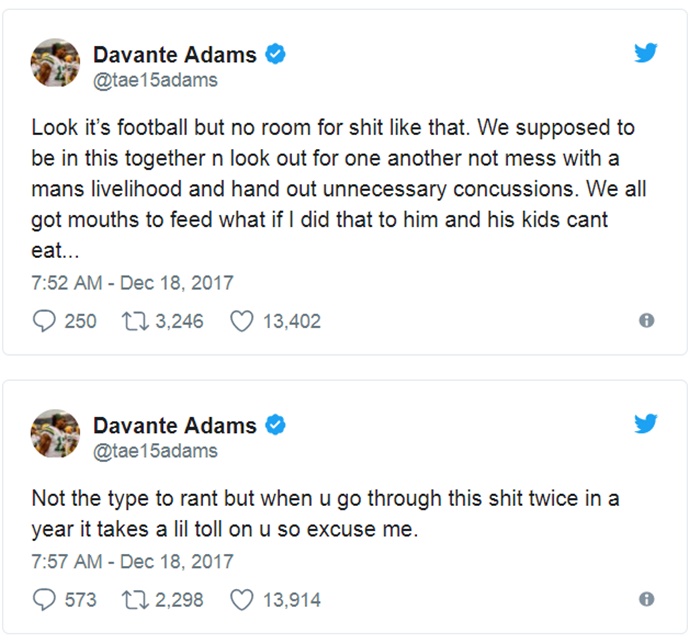 Watch and you'll understand why he's sounding off:
Here's a look at the hit Thomas Davis laid on Davante Adams. He's up and moving. #Packers pic.twitter.com/BQLf3y1x0q

— Mike Cianciolo (@MikeCianciolo) December 17, 2017