On Thursday, the Philadelphia Eagles announced they had given Carson Wentz a 4-year contract extension that gave him a $128 million dollar contract and more.
But that didn't sit too well with DeMarcus Lawrence he jumped on Twitter with some nice shade thrown at his rival Carson Wentz. Read on to see DeMarcus Lawrence SHADES Carson Wentz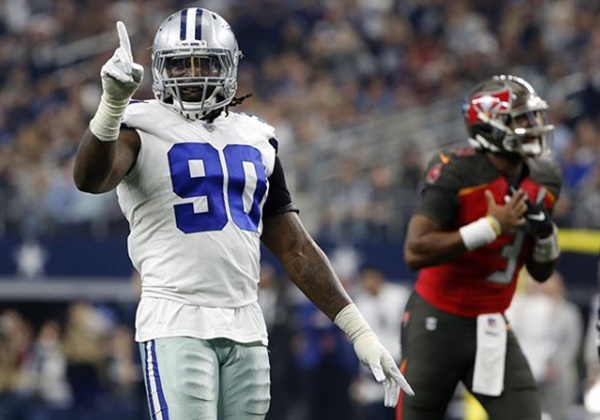 CelebNSports247.com reports that the Dallas Cowboys defensive lineman made it abundantly clear that he saw the deal and had every intention of delivering the pain when he sees him in 2019.
The 27-year-old has plenty of room to talk, having recorded 25 sacks over his past two seasons. But, DeMarcus Lawrence has somehow not managed to take Wentz down for a sack even once in his career.
Shortly after DeMarcus Lawrence posted his Tweet, Eagles offensive tackle Lane Johnson came to the defense of quarterback Carson Wentz.
Lane Johnson, who is paid to protect him on the field, did some social media defense to keep his QB safe by delivering a message right back to Lawrence
Johnson FIRED off this to DeMarcus:
? #cantwait https://t.co/tk6Vcp7ls6 pic.twitter.com/3EAtnr67GX

— Lane Johnson (@LaneJohnson65) June 7, 2019
We can already say that the game to watch in the upcoming season is the Eagle vs The Cowboys so we can see if DeMarcus can do exactly what he tweeted:
The richer they get, the better it feels when we humble they a**.

Like we said Wentz might have the money, but I'm sure DeMarcus Lawrence will take a sweep of their division rival during the upcoming season.
Until then…