Now that Anthony Joshua just lost all his belts, Deontay Wilder and Tyson Fury are weighing in on the former heavyweight Champion who lost to Andy Ruiz Jr.
It was supposed to be Anthony Joshua's big night in the US at Madison Square Garden, the mecca of boxing, instead it was the biggest upset in heavyweight history. Read on to see Deontay Wilder + Tyson Fury weigh in…
WE HAVE A FIGHT ON OUR HANDS LADIES AND GENTLEMEN!#JoshuaRuiz pic.twitter.com/Kf4zJBebne

— DAZN USA (@DAZN_USA) June 2, 2019
CelebNSports247.com reports that Andy Ruiz Jr. shocked the world to become the new heavyweight champion claiming the IBF, WBA, and WBO heavyweight belts.
Following Anthony Joshua's shocking loss to a fighter, many casual fans had either never heard of, or knew little about blew everyone away, and reactions started pouring in on social media.
Two of the other top heavyweights in the world, Tyson Fury and Deontay Wilder, they were sure to get a piece of the action themselves.
Fury took the respectful route, wishing Joshua well in his recovery.
He Tweeted:
We have our back and Forth's but @anthonyfjoshua changed his stars through life. heavyweight boxing, these things happen, rest up, recover, regroup and come again ??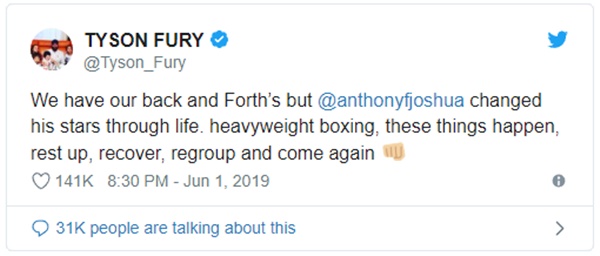 The same could NOT be said for Wilder who bluntly said Joshua "wasn't a true champion."
Wilder wrote on Twitter:
He wasn't a true champion. His whole career consisted of lies, contradictions, and gifts. Facts and now we know who was running from who!!!!#TilThisDay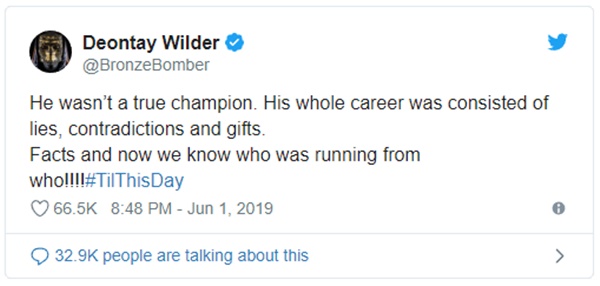 He reaction didn't stop there, he also took to Instagram writing:
Decision making is sometimes the hardest thing to do in life. We may never know which direction to take but, Whatever decision we choose we must suffer the consequences whether it's good or bad.
As my pops always told me: "Son, If You Think Long, You Think Wrong; If You Think Light, You Think Right". And #TilThisDay I am a King. Thanks, Pops!
After Wilder's trash talk and harsh words, Joshua offered after Wilder announced his decision to set up a rematch with Luis Ortiz.
He posted this: