When it comes to Golden State Warriors forward Draymond Green, Boston Celtics' Al Horford's sister, Anna has NOTHING nice to say about Draymond!
Get the latest tea on Draymond Green…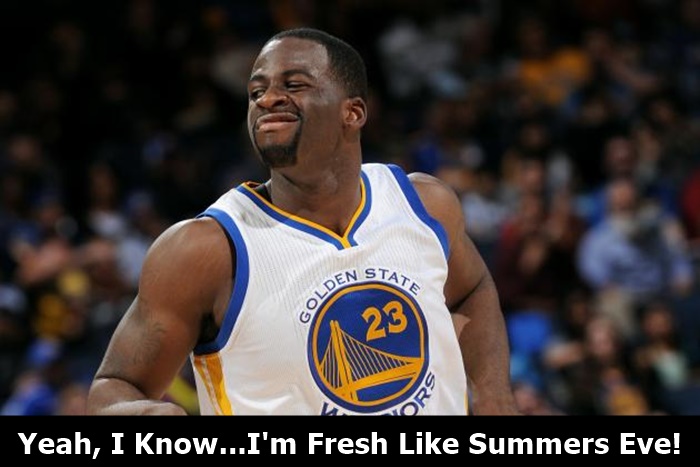 CelebNSports247.com has just got some piping hot tea about Golden State Warriors forward Draymond Green who has just be called a DOUCHE!
Last week, Draymond Green set social media on fire saying Boston Celtics' Kelly Olynyk as a 'dirty player' for intentionally trying to hurt people.
Why is Draymond Green being called a DOUCHE?
It's a hypocritical statement on Draymond's part since the league after people noticed how much he kicked his legs in the air towards other players. Apparently, Green couldn't stop grabbing on everyone's nuts. In fact Draymond was most notably kicking OKC Thunder big man Steven Adams between the legs in Game 3 on the WCF.

Now, Anna Horford is putting him on BLAST for his dirty antics! He HATE for Draymond runs deep, and goes way back to the days when he played for the Michigan State Spartans. She didn't like him then and she doesn't like him now.
[rpi]
Once a DOUCHE always a DOUCHE according to Anna!
She points out that she finds it funny and hypocritical of Draymond Green out of all people. Especially with his track record.
"My brother John did, playing for Michigan and Draymond played for State. So we kind of had that rivalry. I've never really been a huge Draymond fan. I think he's kind of a douche. He was just here in East Lansing last summer, and he got arrested for punching someone in the face. So, that's just not the kind of player or person that I care for at all."
Here is what she posted on Twitter, letting Draymond have it!