Great news Raiders fans, quarterback EJ Manuel has officially signed to The Oakland Raiders as of Monday after spending four seasons with the Buffalo Bills.
Get more details on EJ Manuel signing to the Raiders…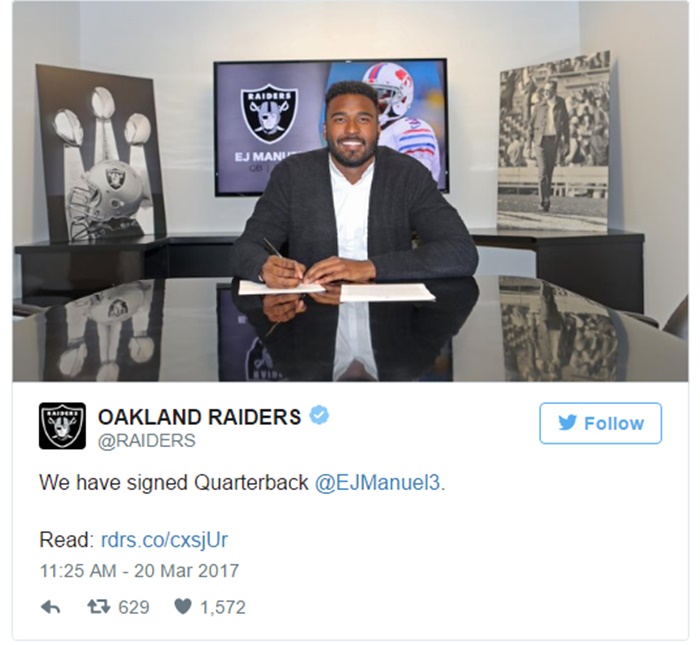 CelebNSports247.com has the latest of on the former Buffalo Bills QB who signed with the Oakland Raiders who played in 10 games, passing for 1,972 yards, 11 touchdowns and threw nine interceptions.
If you recall, the fifth-year quarterback was selected 16th overall by the Bills in 2013. Fast forward to now, EJ Manuel says a big factor why he choose the Raiders was one factor, his decision was based on familiarity.
When EJ Manuel was weighing his option in free agency, one of the factors that influenced his decision was familiarity. The Raiders had a recognizable element that resonated with Manuel. That element was his connection to Raiders offensive coordinator Todd Downing.
[rpi]
EJ Manuel Why He Decided to sign with The Raiders:
After signing his contract with the Raiders, Manuel explained how he knows Downing. EJ Manuel said of Downing, per Vic Tafur of the San Francisco Chronicle:
"We first worked together in the Senior Bowl. Just from those conversations when I was 21, obviously not knowing what to expect from the NFL and the opportunity that lay ahead of me, just having that trust and that kind of open mode of communication relationship relationship from him back then."
Before Raiders head coach Jack Del Rio brought him aboard his staff, Downing spent one season as the quarterbacks coach with the Bills in 2014. He formed a closer relationship with Manuel during that season.
Manuel spoke on his relationship with Todd Downing:
"It was never really more so about football. It was more so just about me as a person. That's something that is very rare in this business. I was extremely happy for him when he got the offensive coordinator position. When he did call once free agency began and told me that they were interested, for me it was a no-brainer. That's a situation you want. Especially as a quarterback and in my situation, truing to really change the perception of whatever I've gone through in Buffalo and all that kind of stuff. I know the player I can be and so does Coach Downing. That's what I'm excited about."
Manuel is now set to battle 2016 fourth-round draft pick Connor Cook for the backup job behind Carr. We will see how it plays out.
For now congratulations to EJ Manuel.