Denver Broncos wide receiver Emmanuel Sanders offers advice to injured Warriors star Kevin Durant.
During Game 5 of the NBA Finals, the Golden State Warriors star Kevin Durant suffered a blown Achilles. Following the game flew to New York and had surgery. He revealed his disturbing news on social media and everyone reached out to him.
That is when Denver Broncos wide receiver Emmanuel Sanders offered advice to Kevin Durant since he had been through the same situation a year prior. Continue on to see what he said to KD…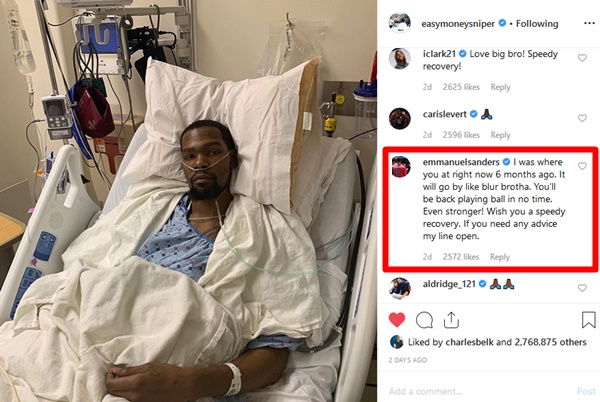 CelebNSports247.com reports that Denver Broncos wide receiver Emmanuel Sanders took to Durant's post on social media to let him know that he'd been in the same situation "6 months ago."
Emmanuel Sanders offered Kevin Durant some encouraging words saying that he'll "be back playing ball in no time." He also wished KD a "speedy recovery," and "if you need any advice my line open."
Sanders who told Durant that his recovery time "will go by like blur brotha," recently said that he "would have wanted" new deal if he were healthy.
Emmanuel admitted he "more than likely" would have taken a similar route as Harris — stump for a long-term extension or, at minimum, demand a pay bump on his 2019 walk year — if not for the Achilles' tendon rupture he sustained last December.
The Broncos WR said via Nicki Jhabvanla:
I probably would have wanted a deal.
Facing a long road back and a tenuous short-term future, Sanders documented on social media his lightning-quick rehabilitation over the past six months, from shedding his walking boot, to running in cleats, to change-of-direction and route-work, as he performed last week.
Emmanuel Sanders reveals:
I have no pain when I'm running. I feel good. The only time my Achilles is sore is when I wake up in the morning. Once it loosens up, I'm good to go.
Denver Brocos head coach Vic Fangio expressed little worry over his 2019 status saying:
You're always concerned about everything, but I like our receivers. I like the way they've looked, and that's when we haven't had Emmanuel, like you said. I think Emmanuel is doing well physically. I've got no medical basis for this, but I think he'll be back earlier than people think.
Basically, this is what Kevin Durant can look forward.