Milwaukee Bucks player Giannis Antetokounmpo, has his own no. 1 supported when it comes to his girlfriend, Mariah Riddlesprigger.
Despite the loss to the Toronto Raptors, Mariah Riddlesprigger is crazy stupid over Giannis Antetokounmpo because he's more than just Geek Freak to her. Read on and see what she's saying…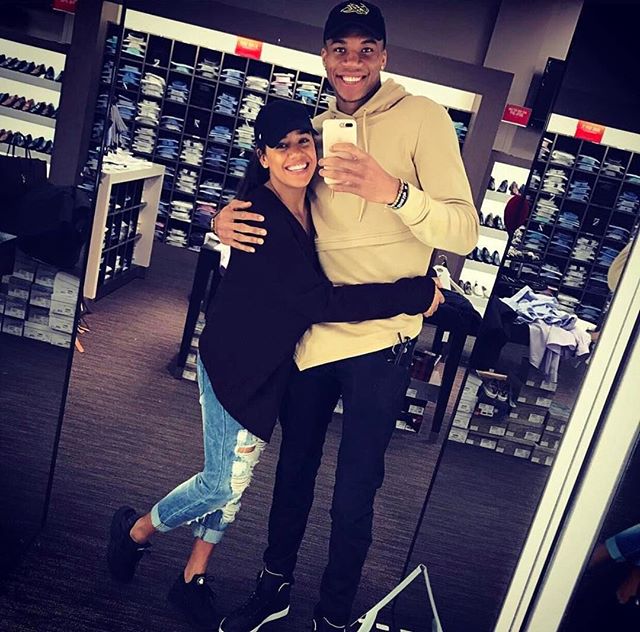 CelebNSports247.com has the latest on Geek Freak, who is happily in love with Mariah Riddlesprigger. The 22-year-old NBA star has been with her for a while now, and it appears things are going great.
Hopefully we didn't just throw a wrench in their relationship.
Giannis Antetokounmpo is known for his three-point shooting, but most recently he didn't come through like the Milwaukee Bucks expected him to.
After a six-game playoff series against the Toronto Raptors, the piece is about the one shot Giannis didn't take in a Game 6 that saw him score 34 points and make over 56 percent of his shots. He was very aware of his mistakes and were he failed. When asked about specific areas of improvement he is going to focus on in the summertime, Giannis offered three of them: leadership, getting stronger, and being able to knock down open threes. – Fansided
Here is what he said about the situation:
"I was extremely tired, but I was motivated by my teammates and the fans in the crowd."
"I was extremely tired, but I was motivated by my teammates and the fans in the crowd." – @Giannis_An34#FearTheDeer pic.twitter.com/HuaORvVexZ

— Milwaukee Bucks (@Bucks) April 28, 2017
Despite his recent fail on the court, his girlfriend is still team Giannis!
Mariah Riddlesprigger is head over heels for her man, Giannis Antetokounmpo. She just can't stop gushing over him because he rocks her world and makes her fell complete. That actually a beautiful thing, right ladies?
Here is what Giannis Antetokounmpo's girlfriend had to say about him:
"To me you're more than the Greek Freak, you're my best friend & greatest person I know. But you deserve this, Giannis Antetokounmpo #NBAVote"