New York Jets RB Isaiah Crowell made sure to disrespect his former team the Cleveland Browns when he made a touchdown.
If you recall, New York Jets RB Isaiah Crowell grabbed the winning ball and wiped his butt with it before throwing it out to fans. It was not well received, but it got him a sweet deal. Read on…
CelebNSports247.com reports that New York Jets RB Isaiah Crowell just landed a deal with DUDE Wipes.
In case you don't know what DUDE Wipes are, they're for guys who like to keep their butt smelling fresh all day.
Crowell posted a photo with a ton of Dude Wipes with the caption, "Thanks to @dudewipes I am now covered. Never leave home without them!"
Do you need some DUDE Wipes? Click HERE…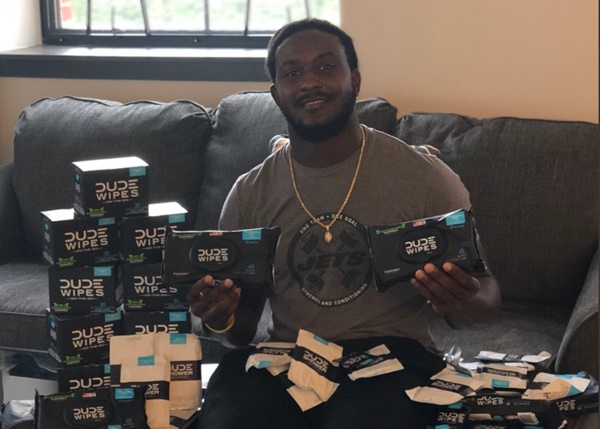 One thing for certain is Isaiah has one of the freshest smelling booties in the NFL. It's so clean you can smell the freshness. LOL!
About Dude Wipes:
DUDE Wipes have famously popularized using flushable wet wipes instead of toilet paper. As seen on Shark Tank, they are perfect for travel and TSA approved. You should never really leave home without them. Back in the day, we founded DUDE Products out of our apartment in Chicago.

Whether it was some unexpected physical activity or the aftermath of the lunchtime burrito, we were destined to smell and something needed to be done. So on behalf of Dudekind, we created DUDE Wipes to combat stink and put you back on your game wherever or whenever nature calls.