JR Smith has left the building! The 33-year-old Small forward, the Shooting guard has left the Cleveland Cavaliers and is looking for a new team.
According to reports JR Smith and the Cavs mutually agreed for him to leave and to find a trade. Read on…
CelebNSports247.com reports that Cleveland Cavaliers are slowly going down the drain since LeBron James left for the Lakers and now JR Smith.
In case you were unaware, JR Smith and the Cavaliers' front office have been at odds all season. General manager Koby Altman previously discussed him leaving the team and Smith had chosen to remain.
The situation was inflamed Monday when Smith gave an interview to The Athletic in which he essentially accused the Cavs of tanking.
The team issued a statement Tuesday acknowledging the arrangement:
The organization wishes JR and his family well and appreciates and thanks him for his contributions to the community, to the team and his role in the 2016 NBA Championship.
Meanwhile, NBA senior writer covering the Cavaliers, Joe Vardon took to Twitter to break the news:
The breakup is 'amicable,' the source said, and the two sides are not working on a buyout at this time.

JR Smith will no longer be actively with the Cavs, a league source tells me. He is working with the team to trade him, and in the meantime will work out on his own.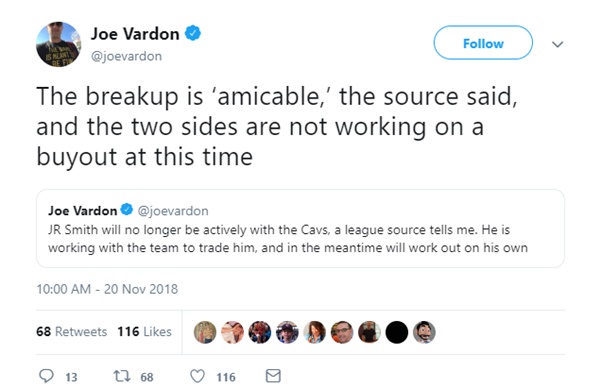 With JR out of the fold for good now in Cleveland, there are just three players left from the 16 title team. Of the three, only Tristan Thompson plays.
It's been an interesting year for Smith from accepting a plea deal to breaking a fan's phone and turning himself in and now he's outta here.
The question now is, where will Smith end up?