Golden State Warriors Kevin Durant has been more vocal than he's ever been and he doesn't seem to care who has an issue with it.
Read on to see what Golden State Warriors Kevin Durant has to say about OKC turning their back on him so quickly…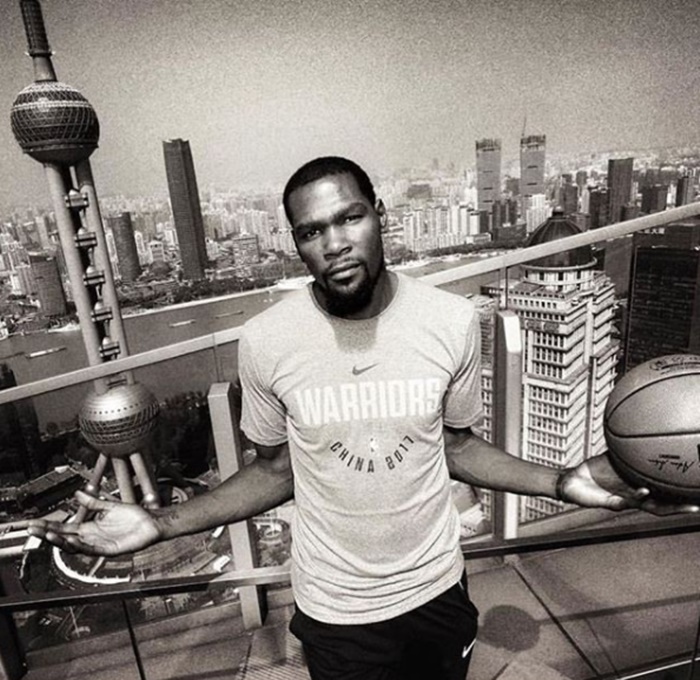 CelebNSports247.com has this report on Warriors star Kevin Durant who has made a decision for his life and NOT what fans think of him.
OKC fans who once loved him like crazy just days before he made that decision to head West to Oakland. Now that they've started acting like a bitter ex friend, KD has this to say.
Durant had this to say in a interview with Bleacher Report:
"I'm a person. I've got real feelings and I'm not afraid to be vulnerable in front of people who watch us play or that follow the league. It's f–ked up that you're saying that stuff about me, because just a couple months before, I was the greatest thing since sliced bread because I was playing for your team. Your team is on TV every day, playing late into the playoffs and you get to brag about how good your city is to some other people around the country. It was all good when I was doing something for you. It was all good when I was representing you. Now I decided to take my career in my hands and I'm a 'bitch'? That's confusing … because some people that I'd seen that cheered for me, people that I actually talked to, the faces they were giving me, the tone they had when they looked at me, it was weird.
[rpi]
Kevin adds:
"If I [respond], it's: 'No, you're sensitive. Shut up. You're supposed to take it. Everybody did it. Michael went through it.' I'm like, hold up. Michael Jordan did not go through this. You know what Michael Jordan went through? Reading the paper and it says, 'Oh, Michael Jordan was 7-for-33 the night before, how the f–k is he going to bounce back?' That's criticism. Criticism is not, '_____, you moved to _____, you're a bitch, a coward.' That's not criticism. Criticism is calling me Mr. Unreliable and bouncing back the next night."
KD is referring to a headline from an OKC newspaper from Game 5 of the Thunder's 2014 first-round playoff series where Durant missed a free throw that would've tied the game.