Sorry to say but LaVar Ball is utterly ungrateful for this, because his son LiAngelo Ball could had stayed in China and rotted in prison. Thankfully President 45 used his power to get his son home.
LaVar needs to realize it was NOT all him that got his son back in the US, he had help. He doesn't have to like President 45, but at least acknowledge he got his son home. Read on and see why LaVar Ball and President 45 are facing off…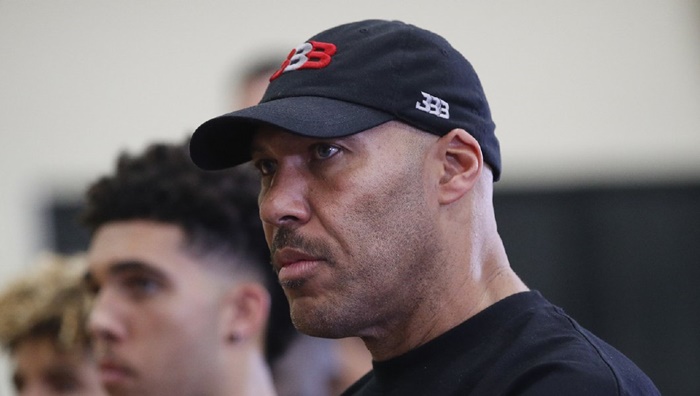 CelebNSports247.com has the latest nonsense coming from LaVar Ball who refused to acknowledge that President 45 helped in getting LiAngelo Ball back home.
President 45 continues to point out that "Shoplifting is a very big deal in China, as it should be (5-10 years in jail)."
45 pointed out FACTS on Twitter:
[rpi]
TMZ Sports reports:
POTUS is lashing back at the outspoken basketball dad after LaVar dissed Trump during an ESPN interview a few days ago.
LaVar cast doubt on Trump's role in freeing his son from China after LiAngelo and 2 UCLA basketball teammates shoplifted.
No. 45 added:
"Now that the three basketball players are out of China and saved from years in jail, LaVar Ball, the father of LiAngelo, is unaccepting of what I did for his son and that shoplifting is no big deal. I should have left them in jail!"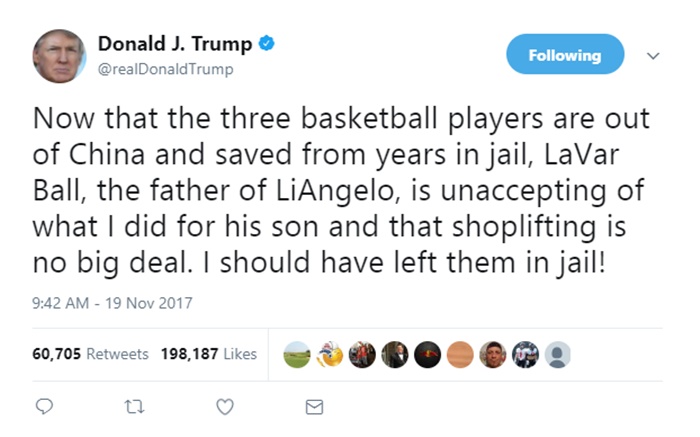 As for LiAngelo and his 2 teammates, all 3 players thanked the 45th President after returning to the United States last week.
At the end of the day, President 45 NEEDS to worry about the country and NOT LaVar Ball and his nonsense. But the two are having a who has the bigger dick contest, which we all know LaVar will win by a landslide in that dept.
We get it 45 is upset, he wants the people to love him. but we don't. Thanks for getting these three idiot players home, but maybe they should have stayed to learn steeling is taken very serious in other countries and then LaVar can b-tch about that.
We're done talking about this. Next…