It appears LeBron James mother ex boyfriend Da Real Lambo is back to putting King LeBron on front street for cheating!
Get the tea spilling on LeBron James via his mothers ex Da Real Lambo…
CelebNsports247.com has the latest on Cleveland Cavaliers baller King LeBron James
Da Real Lambo was spotted back on Instagram (@iamlamboworld) talking about his upcoming tell-all-book that is dishing dirt on the NBA star. We caught wind via TerezOwens who broke the news first, so thx for the tea spill…
Lambo writes:
#godspeed MY BOOK WILL BE GIVING THE WORLD THE TRUTH ABOUT WHY @beyonce WASN'T INVITED TO @kingjames WEDDING, AND ALSO WHY #savannajames Wasn't invited to @beyoncewedding, THE MISTRESS WILL BE EXPOSED IN MY BOOK, MAYBE ITS A CUZING OF #jayz or @beyonce, U HAVE TO READ MY BOOK TO KNOW ." Damn, not checkout the next video below of some girl talking about LeBron James in her DM's. Like I said, we will have some pages from the book coming soon.
He adds:
THIS NOT APART OF MY BOOK THIS IS JUST TO SHOW THE WORLD WHO REALLY CHEATS ON THEIR WIFE,MY BOOK HAS WAY BETTER INFORMATION AND TRUTH OF @kingjames REAL MISTRESS!!!!
Da Real Lambo is already filming his interview for his upcoming tell-all-book where no one who has been in contact with Da Real is NOT safe!
He goes on to SHADE LeBron by giving props to Dwayne Wade: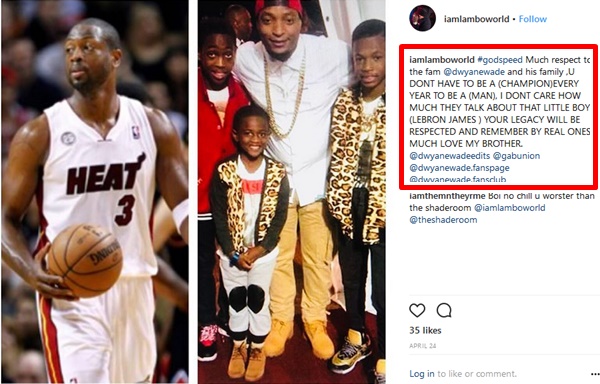 Poor LeBron, it looks like he'll have some explaining to do all over again if his wife doesn't already know the tea.