What fans have NO CLUE is that it's rough in the NFL, especially when you must make decisions for your family and your well-being! Former New England Patriots LeGarrette Blount chose to sign with the Philadelphia Eagles in free agency.
After becoming a free agent last year, both LeGarrette Blount and Chris Long signed with the Eagles, but who knew everything would come full circle for them. You might say its redemption for Blount since the Patriots didn't see a future with running back. Read on to see what he said to his former Patriot fans who had nothing but hateful things to say…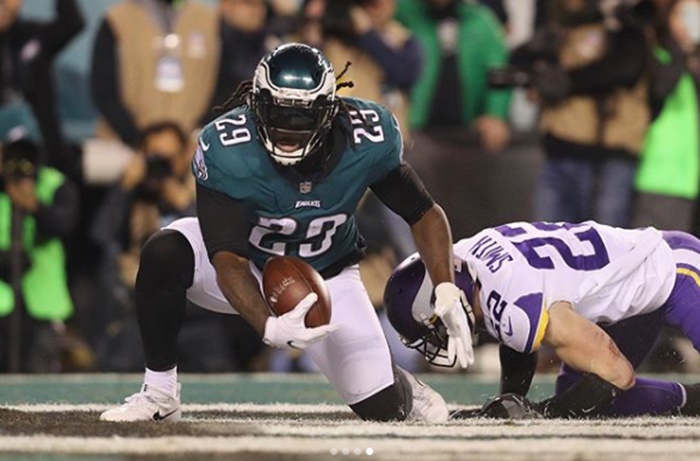 CelebNSports247.com supports LeGarrette Blount because NONE of his former Patriots fans have any clue what went down behind the scenes.
New England Patriots fans may be loyal, but in this case their idiots for taking things too far. We would love to see one of them say it to his face without a cellphone or laptop to talk behind. #Cowards
Despite the series of NASTY comments from LeGarrette Blount's former Patriots fans who kept calling him a bitch on Twitter, he had this to say:
"I'm just gonna let all these pats fans in my DMs and commenting on my pics know that my block button is getting used heavily! Especially when they are calling me a B**** and more. Shit not gonna fly with me! We don't need fans like that and neither do they! No room for it!"
As for, LeGarrette's decision to sign with the Eagles – It was the perfect move for a player who was coming off a Super Bowl victory. #HAHAHA
Apparently, Patriots fans can't take a loss, so they attacked Blount. No matter, like we said on Twitter:
"You tell them @LG_Blount They don't know you, they just fans sitting on the couch, drinking bear and working 9-5 day in day out. You won the Super Bowl…They wish they were you! #Congrats"
[rpi]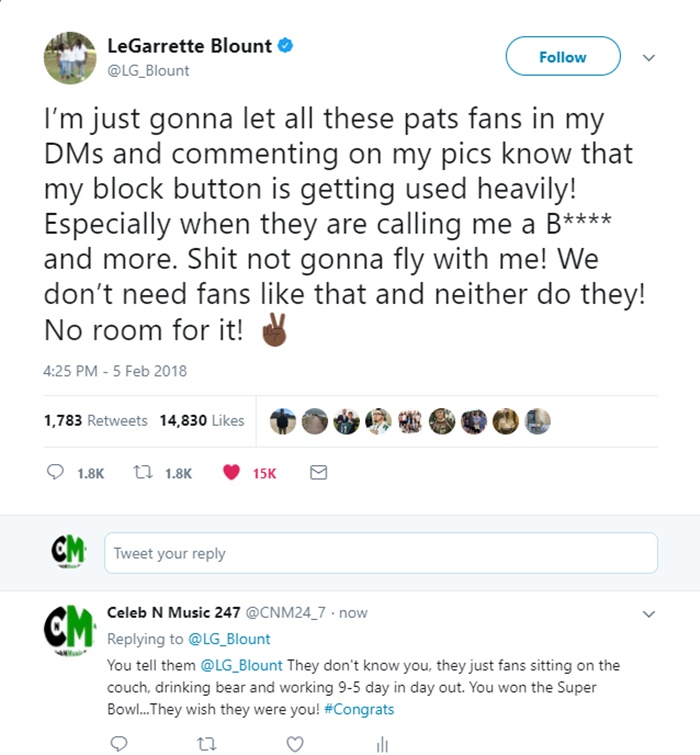 Oh yeah, we forgot to say #SUCKIT to all his SALTY haters!
In case you missed the play that helped set up the Eagles for the win, check it here:
The play that helped set up the @Eagles TD…

? @LG_Blount #SBLII #FlyEaglesFly pic.twitter.com/FWxQJ8pGiy

— NFL (@NFL) February 5, 2018
Take a look at these tweets…so disgusting! #GetALife