Denver Nuggets Michael Porter Jr. was one of the top-ranked players in the 2017 recruiting class but was limited to just three games at Missouri because of back problems.
These days LiAngelo Ball's Ex Izzy Morris is smashing Denver Nuggets Michael Porter Jr. Meanwhile, he has a new girl named Jaden Owens who has been battling it out with his ex on social media. Read on for all the tea spilling…
CelebNSports247.com has the latest happenings between LiAngelo Ball's bitter ex Izzy Morris who is smashing Denver Nuggets Michael Porter Jr. and fueding with his new GF.
Sounds like someone is trying to act like the grass is greening with Denver Nuggets Michael Porter Jr., but it's NOT.
Izzy is with Michael Porter Jr. who is currently recovering from back sugery. The Nuggets haven't put a timetable on his return. Some think he may be ready after the All-star Break.
Since he is NOT able to play on the court it appears he's got hishands full off the court with LiAngelo Ball's ex Izzy Morris. She is apparently known as Ball's ex Gold Digger.
Izzy has even proved she's with the Denver Nuggets rookie since her IG location revealed she was in Colorado. Maybe she was trying to get LiAngelo jealous.
Here's the proof: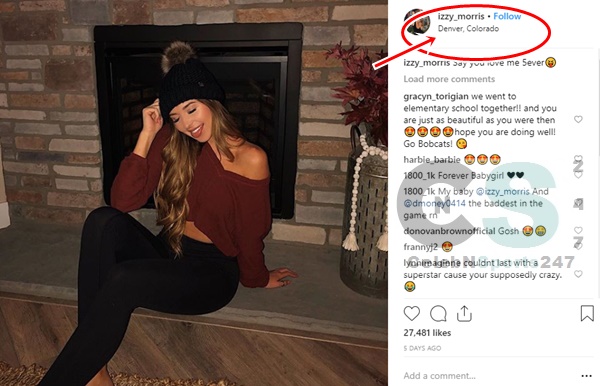 No matter, Izzy's attempt to get him back is NOT WORKING because he has moved on.
Back in August, Gelo starting dating new girl Jaden Owens.
Now it looks like Gelo's new lady, and his old girlfriend, Izzy Morris, are going at it.
Jaden FIRED SHOTS at Izzy saying:
Heard you wanna be like me but you ain't got what it takes?????
Since then, the two have been taking jabs at each other.