New York Giants defensive end Avery Moss has been the victim of an online hacker, resulting in several nude photos and videos of himself surfacing.
Read on to get the details on Avery Moss…
CelebNSports247.com caught wind that New York Giants DE Avery Moss has responded to the nude photo leak saying:
Since my Instagram got hacked guess I gotta learn how to use Twitter now
The defensive end for the Giants Instagram and Venmo accounts were hijacked on Monday.
The hijackers blocked all the accounts that Moss had followed in an attempt to likely slow their reaction time to the attack. More videos and pictures followed before they were removed within approximately 30 minutes.
The accounts contained "many revealing pictures and videos," according to the New York Post's Jack Nisse. They, along with Avery's email address, were then published online.
Moss also had his Twitter account hacked Monday, where the nude videos and photos of himself were published, as well as his email account.
All the photos have been deleted from the internet.
Here is the tweet from Avery after he learned that his Instagram and Venmo were hacked and he was locked out of his account.
Moss tweeted: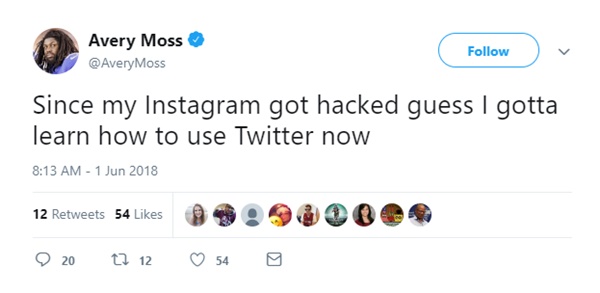 Thoughts?