26-year-old Neymar just CROSSED THE LINE with a Tasteless Tweet! Neymar just found out that comparing himself to the late Steven Hawkins is NOT funny!
Futbol forward for French club Paris Saint-Germain and the Brazil national team, Neymar also learned that Twitter is NOT his friend. Read on to see the backlash caused by Neymar tasteless tweet...
CelebNSports247.com has the latest on futbol great Neymar, who took to social media On Wednesday while the entire world mourned the passing of astrophysicist Stephen Hawking.
While the entire world mourned the passing of astrophysicist Stephen Hawking on Wednesday, including Brazilian soccer superstar Neymar. The only problem is that Neymar tasteless tweet rubbed a lot of people the wrong way.
Hawkins is one of the greatest minds of our time and the world learned to understand him by his accessible books such as A Brief History of Time. Steven Hawkins managed to live with it for over 50 years, accomplishing some of his most important work while confined to a wheelchair, and unable even to speak.
Which leads us to futbol striker Neymar who recently broke his foot and will miss the remainder of the Paris Saint-Germain season.
On Wednesday he posted a photo of himself chilling in his wheelchair along with one of Hawking's many inspirational quotes.
The quote reads as follows:
"One has to have a positive attitude and must make the best of the situation that one finds oneself in."
Following the tweet, social media was instantly up in arms and offended. They instantly started FIRING SHOTS at his rude and insensitive remark. He may have thought he was paying homage to the late Hawkins, but instead he came off mocking Steven and nobody appreciated it.
Take a look: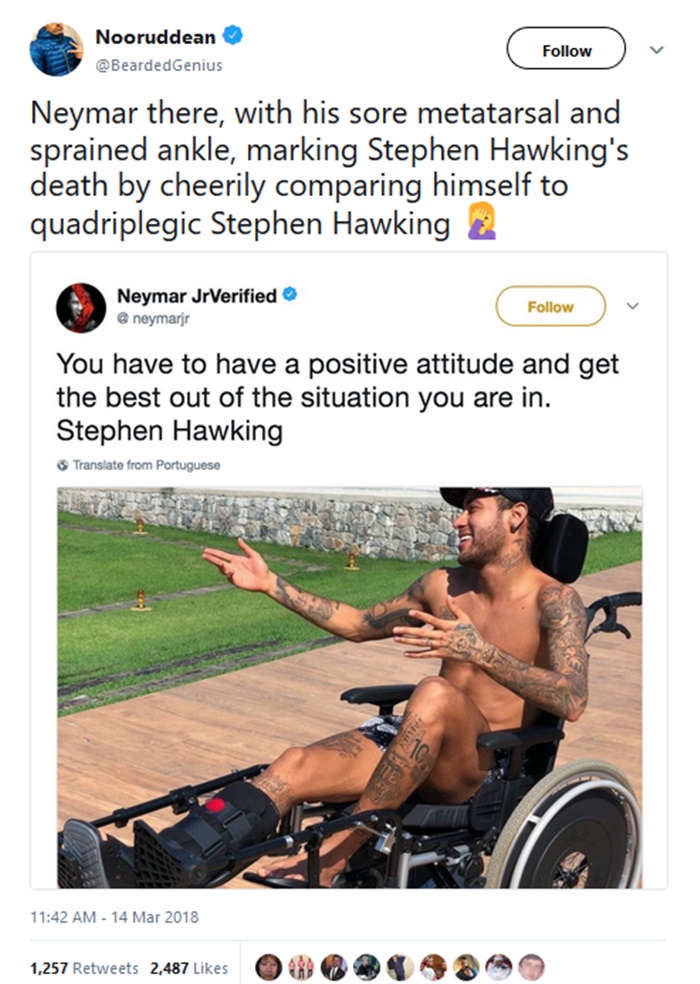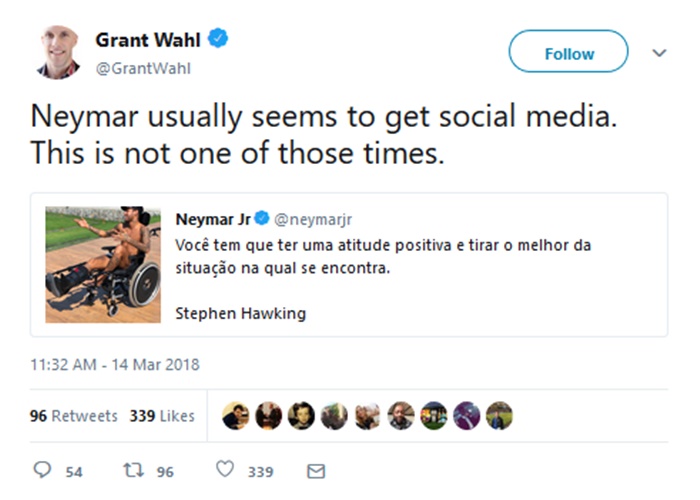 What do you think of Neymar tasteless tweet?
Doctors expect him to be fully recovered by May.