This is kind of messed up, but Cleveland Browns wide receiver Odell Beckham Jr. played it off after getting hit by a football before MNF.
You might say things have gotten off to an ugly start for the Cleveland Browns on Monday night for Odell Beckham Jr. Continue on to watch as Odell Beckham Jr. BOOED…
Hey @AndrewSiciliano, I thought you were a #Browns fan! Why'd you throw the ball at @obj?! pic.twitter.com/AR7BN5MNcH

— Jason Zone Fisher (@JZFish) October 7, 2019
CelebNMusic247.com has the latest from the Cleveland Browns WR Odell Beckham Jr. who was BOOED by fans after getting hit in the head.
Just before Monday night's game against the undefeated San Francisco 49ers, Odell Beckham Jr. should have taken the hit to the head as a sign.
While practicing for the game and having a little fun doing the Carlton on the field, someone hit him with a football. We guess they didn't like the Carlton from The Fresh Prince of Bel-Air.
Maybe the Cleveland star wide receiver lost his focus for a second while warming up at Levi's Stadium? Who knows, but he surely played it off.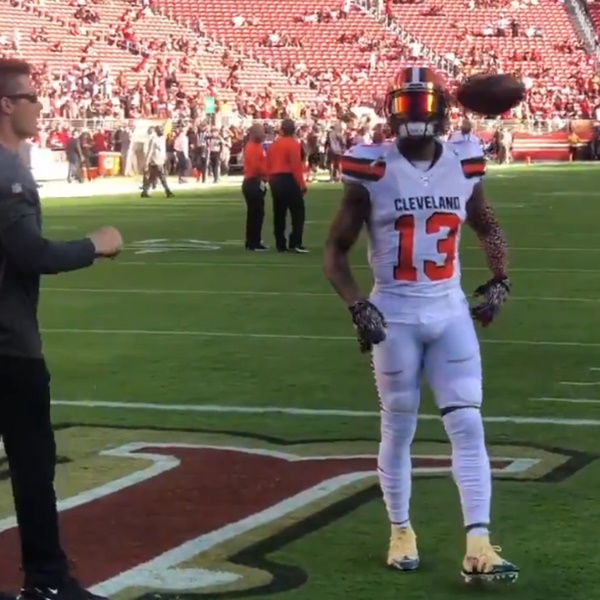 Maybe what happened to Odell Beckham Jr. before the game was a sign of things to come for the Browns?
The Cleveland Browns got off to an ugly start in, as they gave up two quick touchdowns in the first quarter to fall behind 14-0. It could have been worse, too, but the 49ers missed a field goal.
What do you think about Odell Beckham Jr. BOOED?