Odell Beckham Jr Trade has really been a lot for the former New York Giants wide receiver who took to social media with a post + delete on his emotional and mental breakdown.
Read on to see what Odell revealed regarding the Odell Beckham Jr Trade news all over the media…
CelebNSports247.com reports that Odell Beckham Jr had an emotional and mental breakdown after he learned that he was no longer a Giant.
Following the news of the Odell Beckham Jr Trade, he decided to post his frustrations being traded from the New York Giants to the Cleveland Browns.
The sexy blonde haired hunk took to social media speaking on his emotional and mental breakdown:
I love you all so much, for the ones that follow and support thank u all for that. I'm taking an emotional, mental physical/blah blah blah vacation. I appreciate the love honestly but at this moment for the next couple days, I'm going dark. I won't be around, phone is gone, with all due respect, please don't text/call/FaceTime unless it's of the utmost importance.
I really need some time to vibe and just get away, process, reevaluate some of the things in my life, as much has changed for me recently. I'm doin amazing thanks for askin!!! I'm really just trying to get everything together and gather all my thoughts so I can take the next steps in my life to be the very very very best me moving forward. God bless u all and again thanks for the love and support, I will see u soon… Always LUVVVVV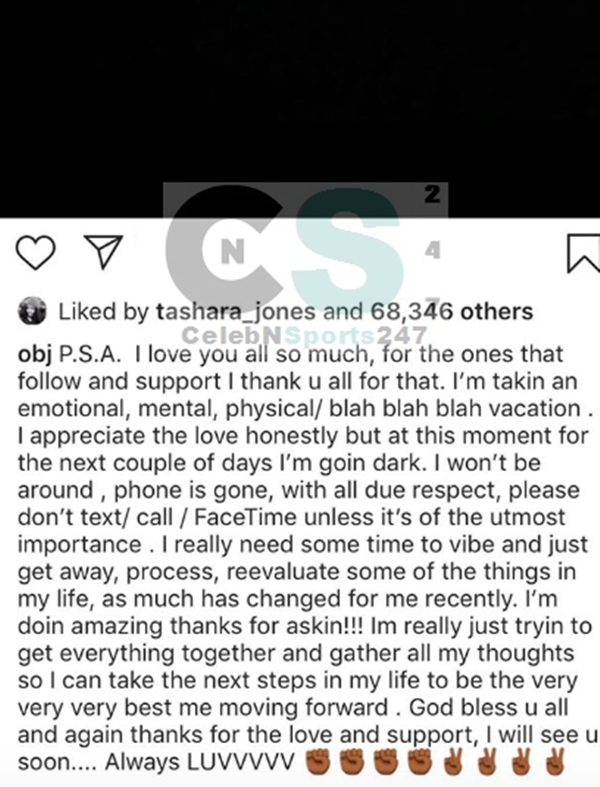 Shortly after the post/delete, he issued his statement on joining the Cleveland Browns: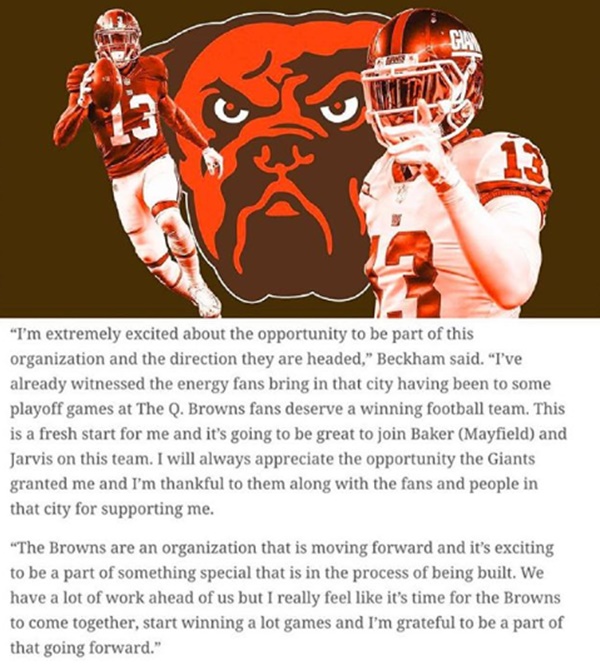 Odell said:
So many mixed emotions and feelings. This is all, a lot to process but it is reality. I don't know exactly what to say so just gotta keep it real and short.
He went on to thank the New York Giants, the NFL, his kitchen staff, his "main man Jose," his fans and New Yorkers.
I loved you guys dearly and always will. I gave u my all every Sunday. To the fans, some happy, some not, I just wanna thank u guys for making my experience in NY SOMETHIN I'LL NEVER FORGET!
Though, Beckham still makes his true thoughts heard with posts like this: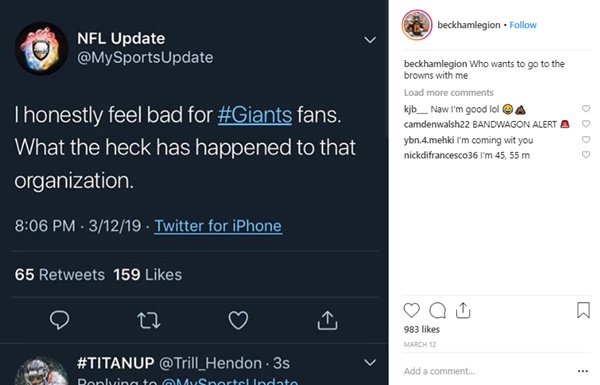 Fast forward to today, Odell Beckham Jr weighs in on being traded reposting Pat Schurmur explanation:
Shurmur said:
My reaction is always the case with trades, it's good for both parties. We feel good about what we got. We got a starting safety, we got a first-round pick and we got our third-round pick. We felt it was good for us and, because we were able to come to an agreement, Cleveland thought it was good for them.
The Giants also traded outside linebacker Olivier Vernon to the Browns and got back guard Kevin Zeitler.
He adds:
With regard to Odell and even O.V., it was business. I know from my standpoint on a personal level anybody I've ever worked with I wish the best for when they leave. I'm hopeful O.V. and Odell can go to Cleveland, have an impact and help their team win games. That's where it's at.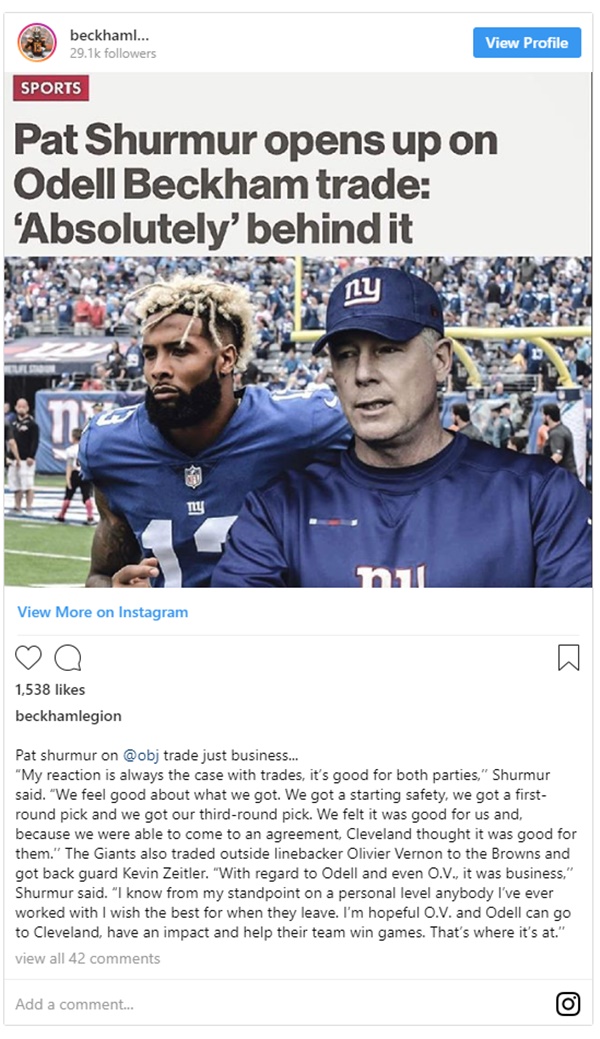 At the end of the day, Odell Beckham Jr Trade is still taking a toll. He posted the #TBT of the day he first signed his contract with the Giants. It was a happy time.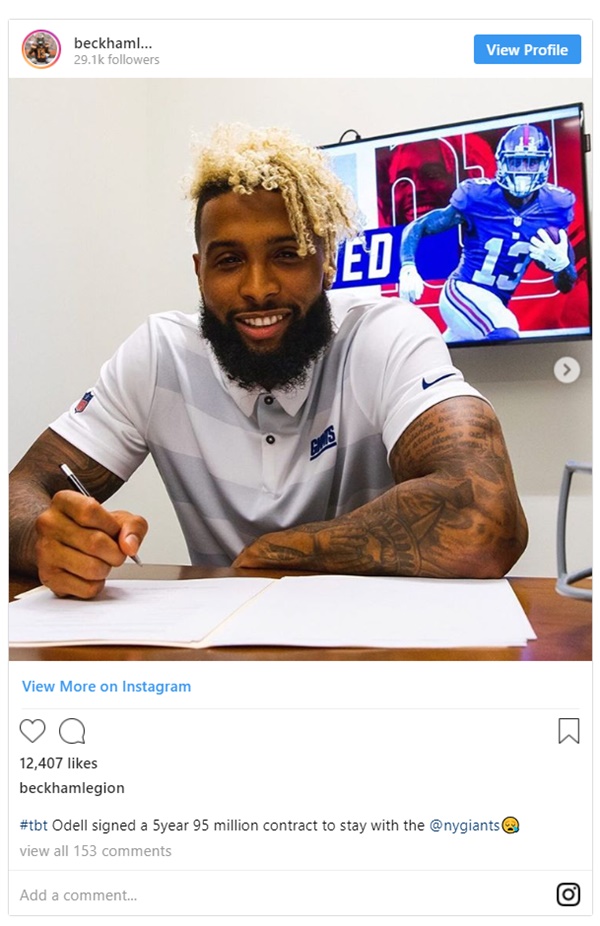 We still love you Odell.