If you don't succeed the first time, try, try again! Olivia Culpo has done just that. She has found herself another athlete boyfriend, NFL star, Christian McCaffrey.
Olivia Culpo has been known to be a big fan of dating football players, except for her rebound filler Zedd.
Culpo recently dated Detroit Lions wide receiver Danny Amendola, (after dumping Tristan Thompson) she wanted to get married, he did NOT. After she didn't get a touchdown with Danny, Culpo was spotted flirting back and forth on Instagram with Christian McCaffrey.
And guess what, it worked!  Read on to get the latest on Carolina Panthers running back Christian McCaffrey and model Olivia Culpo dating…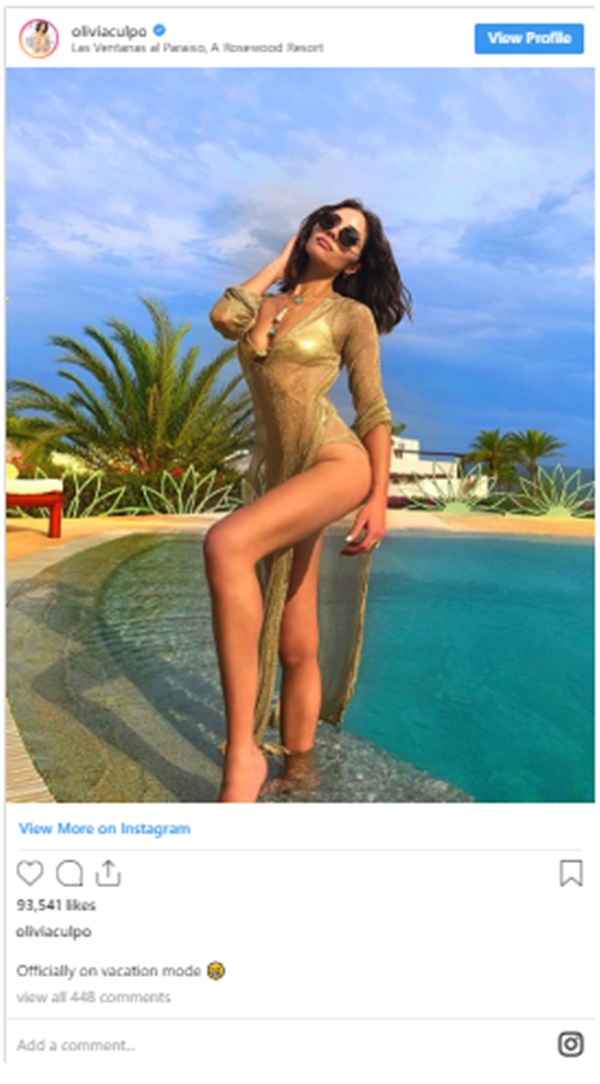 CelebNSports247.com reports that model Olivia Culpo was spotted holding hands with her 23-year-old NFL hunk Christian McCaffrey.
Christian McCaffrey and Olivia Culpo holding hands in Mexico, confirming what everyone suspected, they're dating.
We have to admit they look great together, she's one of the hottest models on the planet and the Carolina Panthers running back looks like he was sculpted out of granite.
It's been rumored that these two were courting and now it's confirmed that they're coupled. They've been in Cabo together for the past few days, but paps finally got the first pics of Olivia Culpo and Christian showing affection. – via TMZ
McCaffrey and Cuplo have been spotted hanging out in Cabo, Mexico along with their friends Kristen Louelle and Tyler Gaffney. Gaffney used to play in the NFL and played for teams like the Jacksonville Jaguars and the New England Patriots.
Olivia Culpo posted this to let everyone know she is on vacay:
The 23-year-old football star is coming off a stellar 2nd season in the NFL — he rushed for more than 1,000 yards in 2018.
27-year-old Culpo is coming off a wild breakup with 33-year-old NFL star Danny Amendola, a wide receiver for the Detroit Lions.