The battle between Golden Boy Promotions CEO Oscar De La Hoya and UFC President Dana White, and neither side is backing down.
Read on and see the Oscar De La Hoya FIRED OFF SHOTS at Dana White….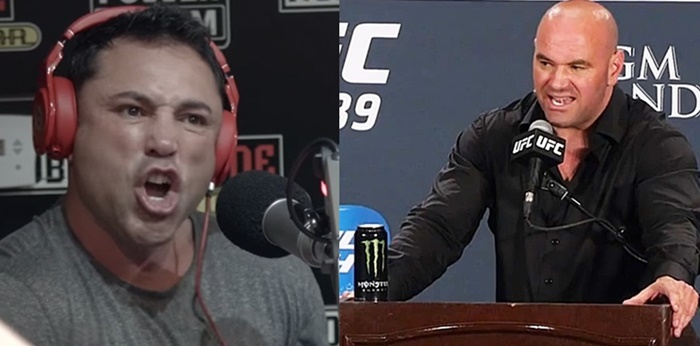 CelebNSports247.com has another hot topic in sports in regards to the Floyd Mayweather vs Colin McGregor fight that may or may not ever happen.
On Monday, Golden Boy Promotions CEO Oscar De La Hoya FIRED SHOTS at Dana White BASHING him for the Floyd vs. Conor fight.
De La Hoya vs White Feud Details:
Oscar appeared on "SportsCenter" on ESPN and decided to let UFC President Dana White have it in an expletive-filled tongue lashing.
White previously stated that De La Hoya's criticism stemmed from his own insecurity because Golden Boy Promotions last fight between Canelo vs. Chavez. White said that the fight "sucked."
Checkout White going off on Oscar:
Oscar De La Hoya wasn't having it with White, so the two went at it like a couple of Real Housewives of Fighting. Oscar flipped his lid and told White that the Floyd vs. Conor will suck even worse.
[rpi]
Here is what De La Hoya said about the Mayweather vs McGregor fight, which he calls a disgrace to boxing:
Despite all the bickering like two women, Oscar says he still has respect for Dana, but won't be hanging out with him any time soon.