The New Orleans Pelicans respond to Anthony Davis' trade request, because if that happens
The New Orleans Pelicans are NOT pleased with the Los Angeles Lakers request for Anthony Davis trade. Continue on to read the Pelicans strongly-worded statement…
CelebNSports reports on Monday afternoon in response to Anthony Davis' trade demand the New Orleans Pelicans released this statement.
The statement reads as follows:
This past weekend, Anthony Davis' representatives informed us that Anthony does not wish to sign a contract extension with our team and subsequently has requested a trade. Although we are disappointed in this decision, our organization's top priority is to bring an NBA championship to our city and fans and build our team for long-term success.

Relative to specific talks of a trade, we will do this on our terms and our timeline. One that makes the most sense for our team and it will not be dictated by those outside of our organization. We have also requested the League to strictly enforce the tampering rules associated with this transaction.
Following the Pelicans release of their statement, the NBA told Marc Stein of the New York Times the request is being investigated.
NBA spokesman Mike Bass on the Anthony Davis trade demand:
We commenced an investigation this morning upon reading the reports regarding Anthony Davis. That process is ongoing.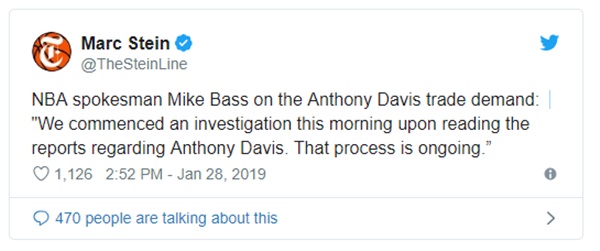 Following the news of the Lakers Anthony Davis' trade request, Lonzo Ball has threatened to be traded:
Lonzo Ball and Big Baller Brand family knows any deal will include them. The camp gave word Monday evening on what they want the Lakers to do if they do trade him for Davis.
The Bleacher Report posted this tea:
Lonzo would rather be moved to a third team that doesn't have an established PG.