On Friday night it was so upsetting to see the Warriors lose the lead during the second half of the NBA finals letting the Toronto Raptors win 105-92 win over the Golden State Warriors.
During game 4 Raptors guard Fred VanVleet took an inadvertent Shaun Livingston elbow in the 4th quarter. Read on…
Fred VanVleet takes an elbow to the face and has to leave the court to get stitched up. pic.twitter.com/O7QgH1pO8n

— TSN (@TSN_Sports) June 8, 2019
CelebNSports247.com reports that things got a little rough during game 4 of the NBA finals and Raptors guard Fred VanVleet ended up with 7 stitches and a broken tooth.
In the video above you can see the moment when Fred VanVleet took an inadvertent Shaun Livingston elbow to the face.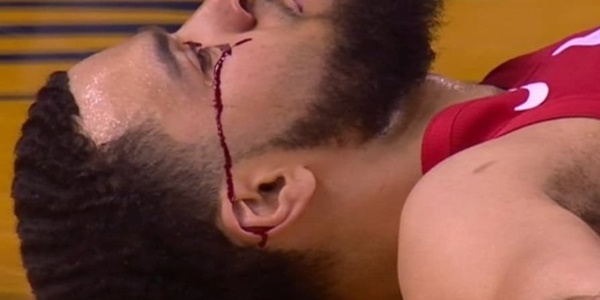 VanVleet was taken to the locker room and received seven stitches to close the wound under his eye. The tooth isn't going to be as easily repaired.
Yeah, it sucked that VanVleet landed seven stitches under his eye and broke a tooth, but we bet he would do it all over again since his team won game 4.
Now the NBA finals are 3 – 1 with the Raptors in the lead. The Warriors have an uphill battle which will play out in Toronto.
VanVleet was a good sport about the injury taking to Instagram posting this photo and caption:
Need my shit fixed asap?
The Raptors are still unstoppable like in game 3…