Golden State Warriors golden boy Stephen Curry and his wife, Ayesha, welcomed a baby boy on Thursday, they announced on Instagram.
The 30-year old Golden State Warriors star and his wife a photo of their new addition to the family on social media. Read on to see photos of Stephen Curry and Ayesha Curry new baby boy….
CelebNSports247.com wants to congratulate Stephen Curry, Ayesha Curry who welcomed their human firework, Canon W. Jack Curry on Thursday.
Proud daddy Stephen Curry posted a photo of Canon W. Jack Curry on Wednesday.
Canon is Curry's first son, joining sisters Riley, who will turn 6 this month, and Ryan, who turns 3 next week. Canon arrived early, Ayesha Curry said.
Steph Curry had been spending the summer after winning a third title with the Warriors playing some golf while introducing Riley to the sport.
He is scheduled to play in the American Century Championship, a celebrity golf tournament at Lake Tahoe, July 13-15.
As for, Ayesha Curry, she hosts a food show, "Ayesha's Test Kitchen," and owns a couple of restaurants, including one that opened in Houston last month. In June, she came under attack when Houston natives were CLAPPING BACK at the success of her husband's team.
Though, she has nothing to do with the Warriors except for the fact Steph is her husband sports fans crossed the line. The family is OFF LIMITS!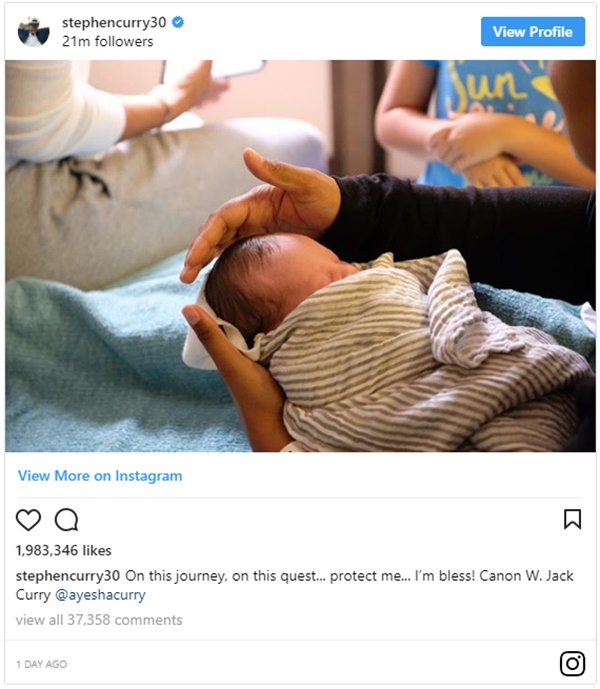 Take a look below: