Former UCLA hoops standout and Sacramento Kings player Tyler Honeycutt, 27, found dead early Saturday morning.
Read on #Celebes to learn more info on Tyler Honeycutt…
CelebNSports247.com has received word that Tyler Honeycutt was found dead early Saturday morning.
According to TMZ Sports, Tyler Honeycutt died Saturday morning after a police shootout and standoff at his L.A. area home
LAPD confirmed that it doesn't appear as if Honeycutt was struck by any gunfire in the shootout, but "appears to have sustained injuries consistent with a self-inflicted gunshot wound." We're told a gun was found on the scene.
Law enforcement adds that officers responded to a call of a man with a gun at Honeycutt's Sherman Oaks residence after 5 PM Friday, and upon arrival — he fired a shot at them. We're told cops fired back, but no officers were injured.
After an hours-long standoff — SWAT entered his home and found Honeycutt unresponsive. He was declared dead at the scene by the fire department.
Honeycutt's mother was reportedly the one who called police Friday, saying her son was acting erratically.
TotalProSports reports:
Honeycutt was killed after he and SWAT exchanged FIRE – he allegedly died from police gunfire according to LAPD HQ:
UPDATE: We can confirm that during the initial encounter the suspect fired a shot out of the residence and officers returned fire. No officers were injured and it's unknown if the suspect was struck. This is still an ongoing barricaded situation with SWAT officers on scene.

UPDATE: SWAT entered the residence & located an unresponsive male. LAFD responded & pronounced the male dead at the scene. Investigators from our Force Investigation Division are at the scene conducting a thorough investigation and we will provide more details as they become available.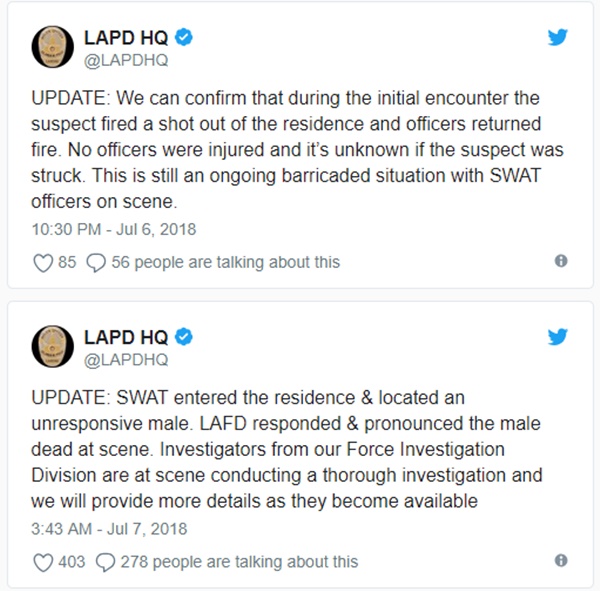 RIP Tyler! #SAD