Celebrated New York amateur boxer Zab Judah hospitalized after suffering head injuries in a one-sided bout to Cletus Seldin in their regional title fight on Friday.
Read on for more on Zab Judah Hospitalized…
Cletus Seldin punishes and stops Zab Judah in round 11. The 41-year-old Judah couldn't let his hands go tonight pic.twitter.com/w0lCh9k2QE

— Ryan Songalia (@ryansongalia) June 8, 2019
CelebNSports247.com has learned that Zab Judah, the 41-year-old who refuses to retire and continues to box well past his prime, was hospitalized on Sunday following his Friday night bout.
Zab Judah hospitalized after suffering bleeding on his brain following his Friday night one-sided bout to Cletus Seldin.
Here is what we have learned via ESPN's Steve Kim from @suziec611 who took to social media to give an update on his condition:
Kim reports:
Judah, who shipped over 300 head punches in losing to Cletus Seldin in eleven, was originally said to be in a critical condition.
It's since been revealed Judah may in fact not be a serious as first thought, he adds:
Just confirmed Zab Judah from the family he is not in a coma but he is in the hospital. He is in good spirits. Zab was not feeling well after his fight and decided to take the extra step of precautions to make sure he physically okay.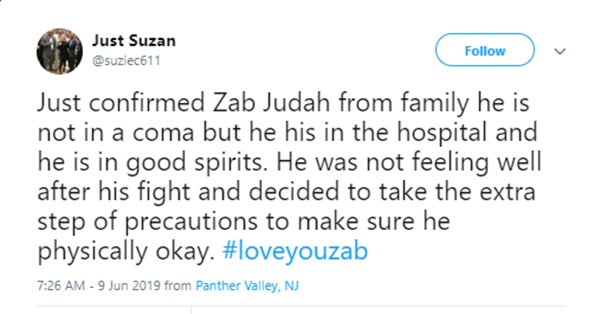 SI reported updates:
Zab Judah is resting comfortably at a New York hospital after suffering a brain bleed in a knockout loss to Cletus Seldin on Friday, Main Events matchmaker Jolene Mizzone—who has been in contact with the family—tells @SInow. He is alert and improving.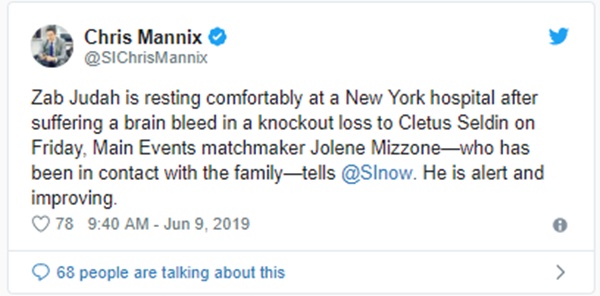 Moretti spoke to Judah's mother and gave information to reports Kevin Iole and Kim.
Zab was never in an induced coma. He had bleeding on the brain but did CAT scan today and swelling went down a little. He is eating, walking and talking.