Antonio Brown Defends Mason Rudolph with a tasteless photo of him kicking a Browns player.
Former Pittsburgh Steelers still has black and yellow flowing through his veins since he took to the Gram defending Steelers QB Mason Rudolph. Read on to see how Antonio Brown defends Mason Rudolph…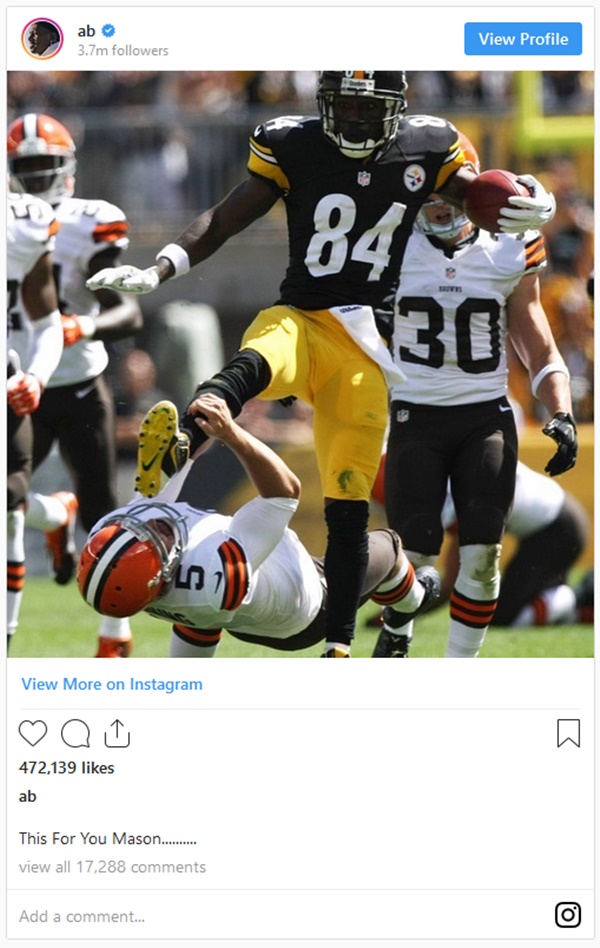 CelebNSports247.com reports that despite having a falling out with the Steelers, one of the three teams that traded Brown, he still shows love for his former team.
Antonio Brown saw what happened with Mason Rudolph getting hit in the head with his own helmet, so he decided to take action with a pic of one of his penalties.
AB took to social media and posted a hilarious photo of himself kicking the Browns punter in the head while trying to hurdle him.
Brown captioned it:
This For You Mason………
Antonio Brown was later fined $8,200 for that kick.
It appears he is still proud of his actions. Especially after what happened during Thursday nights game between the Browns and Steelers.
Plus, Brown and Mason Rudolph were teammates during the 2018 season, their only season as teammates. AB's behavior which he showed in the photo above got him traded to the Oakland Raiders where he only lasted a few months. He was picked up by the Patriots and then dropped.
He is still a free agent at this time.
What do you think about how Antonio Brown defends Mason Rudolph?