Ezekiel Elliott is covering funeral expenses for an 8th-grade football star who was shot and killed by a stray bullet last weekend while leaving a party in St. Louis.
Dallas Cowboys WR Ezekiel Elliott wants to ease some of the pain for the family who has to bury their loved one. Continue on for more details…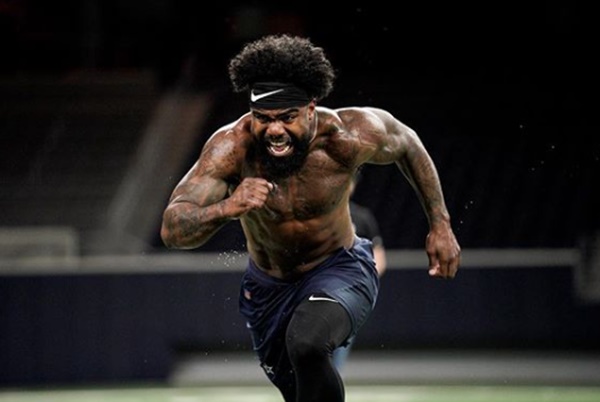 CelebNSports247.com reports that McKenzie's mother, Sukeena Gunner, told Erin O'Neill-Hayes of 5 On Your Side that Elliott reached out to the family after hearing about her son's death.
The reason why Ezekiel Elliott is paying for Jaylon McKenzie's funeral expenses. The news hits close to home for Zeke since Elliott was born in St. Louis and attended John Burroughs School in Ladue.
Jaylon was a HUGE fan of Zeke,
14-year-old Jaylon McKenzie's mother, Sukeena Gunner said this about Ezekiel Elliott:
She also said three other NFL players have had their people reach out too, two of which want to remain anonymous.
His mom adds:
Elliott is one of the players Jaylon would constantly watch to improve his own skills.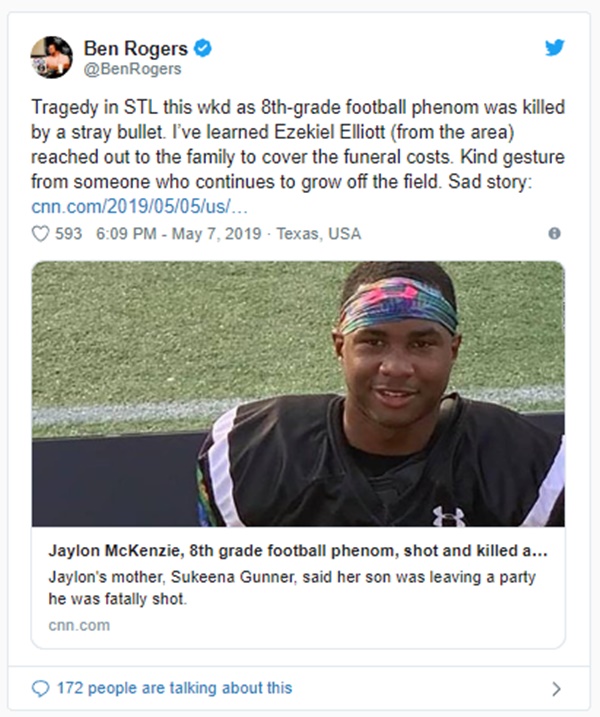 Last week, news broke that 14-year-old Jaylon McKenzie was shot and killed at a house party.
The fatal incident happened following a school dance late Saturday night when a fight broke out involving other people.
McKenzie and others walked outside to leave the home, he was struck by a stray bullet and died at a nearby hospital. McKenzie was a rising star on the field, dominating as a running back, WR and defensive back. He reportedly had scholarship offers from the University of Missouri and University of Illinois.
Jaylon's mom who '"prayed and asked the Lord not to take my baby," said to CNN:
They stopped by the party, not with any intentions to staying long. They were there to pick up something from a friend.
This type of news is disturbing since stay bullets tend to kill teens who are trying to make something of themselves. Instead, the losers who were shooting are still roaming around cause problems.