The 22-year-old Houston Texans WR Jaelen Strong Arrested after he lied to police about having weed next to his sausage!!!
Com'on Jaelen this isn't California where all you need is a card or Washington, where you can buy it at your local pharmacy, you're in Texas man…Texas! Get more on the flip…
This sucks, marijuana is NOT a bad thing if you don't abuse it, but Houston Texans WR Jaelen Strong has learned the hard way, Texas don't play that!
The Wide Receiver was pulled  over in Scottsdale in a Maserati on Sunday night for not having a visible license plate and during the stop, cops say they could smell weed.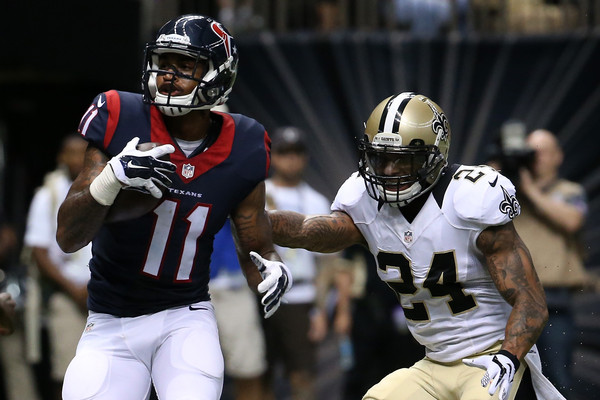 According to the police report, obtained by TMZ Sports, cops asked if there was weed in the car — and all 3 people inside (including GB Packers DB Damarious Randall) said they did not have anything.
Rookie move guys!
[rpi]
Shortly after, cops interrogated, scared them saying "We can play easy or play hard," Jaelen Strong quickly fessed up and pulled a box of joints out of his crotch.
Cops explained they could fess up about the weed or they would get a K9 unit to sniff out the grass. Strong had the joints in a Backwoods Honey Berry Wild 'n Mild Cigar package that contained 3 rolled joints.