After Aaron Hernandez was sentenced to life in prison without bail the former Patriots tight end's world ended. Hernandez was reportedly miserable in Prison.
Aaron Hernandez realized that his freedom was sacrificed and would now live a life under authoritative control, something the former NFL star never got used to. Read on…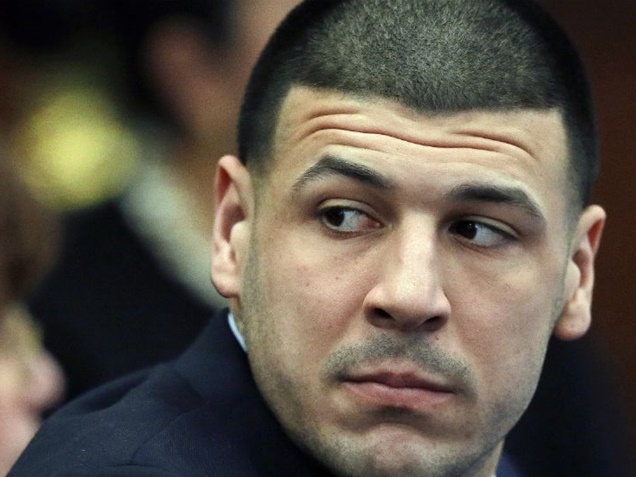 New reports have been surfacing on Aaron Hernandez, who lost everything because he decided to kill a man and sacrificed his perfect world.
While some of his teammates always felt that he was psychotic it only took a few years for Aaron Hernandez to ruin his own world and others. Just a month ago, Aaron ended his stint behind bars by suicide at 27.
Yahoo.com's Dan Wetzel has done some extensive research on the fall of Aaron Hernandez, who went from a man on top of the world to a man angry, frustrated and unaccustomed to prison life. According to reports, Hernandez spent most of his days in a 7-by-10-foot cell, CelebNSports247.com has learned.
Why Hernandez was reportedly miserable in Prison:
Here are some incidents that highlight the change Aaron Hernandez went through after being locked up for life. These are all taken from police reports from both facilities.
A Bristol County guard wrote in a report:
"His aggressive tone … has become an excessive habit when he does not receive what he wants, when he wants it. He is constantly kicking his cell door and screaming at the top of his lungs utilizing profanity at times when he wants something, regardless of how miniscule it is. It is not uncommon for Hernandez to kick his cell door constantly until an officer approaches his cell merely to ask the officer for the current time."
An angry Hernandez was lashing out all the time. Aaron was often involved in fights with other inmates where he was charged with 21 disciplinary offenses at Bristol County Jail, stemming from 12 separate incidents during his 22 months there. When he was moved to the Souza-Baranowski prison, Aaron racked up another 78 disciplinary offenses, including 12 major incidents over a two-year span.
[rpi]
His aggression had begun to get worse. As the days behind bars grew long, he anger and rebellious way intensified.
A Souza-Baranowski incident report stated:
"Hernandez struck [name redacted] with a closed fist to the face and both men engage[d] in a physical altercation. The combatants ignored several direct orders to cease their actions and chemical agent was utilized to separate the inmates."
Aaron lashed out at every chance he could. Locking him up only mad him more angry. He was no longer the NFL star. Hernandez's life had changed and his attitude and outlook on life was enraged and filled with anger.
Thoughts?