Aaron Hernandez Blames Mom For Bad Behavior in Killer Inside!
There is a new documentary that premieres on Netflix about Aaron Hernandez and how he was a ticking timebomb living a double life filled with secrets. Read on…
CelebNSports247.com reveals in one scene of the upcoming Aaron Hernandez documentary you see that he blamed his mother for his crimes before he died by suicide in prison.
Aaron Hernandez, one of our favorite NFL tight ends, shocked the world when he was arrested for a double murder.
Hernandez had the world in his hand, but he threw it all away. The TE signed a multi-million dollar contract with the New England Patriots was seemingly living a life of crime. He had past gang ties that apparently he never left. And he had everyone fooled. Aaron was described as a sweet man, but he ended up entangled in multiple criminal cases. He had a longstanding secret gay relationship with a quarterback and was living a double life since his brother said they had to hide who they were.
Aaron Hernandez came to an untimely end when he took his own life hanging himself with a bedsheet in prison in 2017. Hernandez left a suicide note thanking Kevin Gates among other things. That shocking news came just five days after he was acquitted of double murder charges in the deaths of two men outside a Boston nightclub in 2012.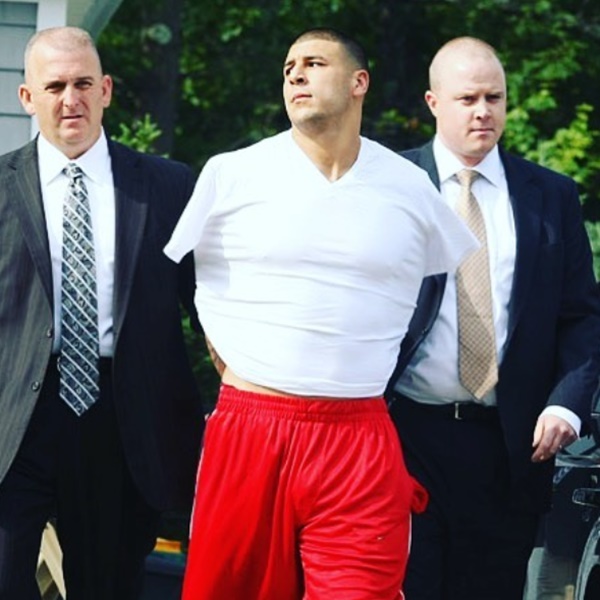 About The Killer Inside The mind of Aaron Hernandez:
Now, Netflix is investigating the life of former Patriots tight end in Aaron Hernandez, the Killer Inside, a three-part documentary that will be released on January 15.
That documentary also plays a phone call recording of Hernandez basically confronting his own mother and blaming her for his actions.
While awaiting trial for the murder of Odin Lloyd in 2013, Hernandez made a series of recorded jailhouse calls to his mother in which he blamed her for many of his problems, but expressed interest in repairing his relationship with her.
via People:
Aaron says to his mother:
I was the happiest little kid in the world, and you f—ked me up.
She replies:
I ain't living with that.
He responds:
You did…I had nobody. What'd you think I was going to do? Become a perfect angel?
Last year, Hernandez's older brother Jonathan Hernandez told PEOPLE that Aaron suffered physical, emotional and sexual abuse before devolving into a life of violence.
He had a lot of things happen, both good and bad. People think they know about my brother, but they really don't. They know what they saw in the news, but they don't know all the struggles he faced.