NFL superstar-turned-killer Aaron Hernandez kept his sexuality a secret from everyone, but he hid a longtime sexual relationship with his high school quarterback Dennis SanSoucie.
Read on to get more details on Aaron Hernandez longterm relationship with his high school QB…
In a new report, CelebNSports247.com has learned that Aaron Hernandez father abused him and "he never dealt with it. It led to issues in his sexuality."
Since his high school days Aaron Hernandez and Dennis SanSoucie formed a formidable duo on the field, and off the field, they engaged in a romance that they carefully shielded away from public view.
After the Bristol Central High School tight end Aaron Hernandez took his life a few days after it was revealed he was gay, Dennis SanSoucie came out publicly.
SanSoucie told the Boston Globe:
Me and him were very much into trying to hide what we were doing. We didn't want people to know.
SanSoucie stated that Dennis Hernandez, Aaron's father, had concerns that his son "had a feminine way about him."
Aaron's father Dennis Hernandez freaked out when Aaron expressed a desire to become a cheerleader. In fact, Dennis was quick to discipline his son for not appearing masculine enough, according to Hernandez's brother, Jonathan Hernandez.
Aaron's brother told the Globe: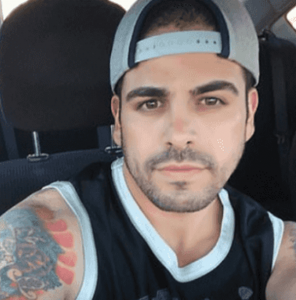 F—-t' was used all the time in our house. All the time. Standing. Talking. Acting. Looking. It was the furthest thing my father wanted you to even look like in our household. This was not acceptable to him.

I remember [Aaron] wanted to be a cheerleader. My cousins were cheerleaders and amazing. And I remember coming home and like my dad put an end to that really quick. And it was not OK. My dad made it clear that … he had his definition of a man
Jonathan Hernandez, brother of the late Aaron Hernandez and a former quarterback at UConn also recalled a time when he threatened to call the police when their dad was attacking them.
Jonathan said:
And [Dad's] response was, 'Call them.' And he handed me the phone, and he said, 'I'm going to beat you even harder, you and your brother, and they're going to have to pull me off of you when they knock down the door.
Aaron's mother, Terri Hernandez, declined to interview.
On the real, Aaron and Dennis SanSoucie made a cute couple. It's sad that he took his life. As for his health, Boston University Scientists discovered that Hernandez had the most severe case of CTE they had ever seen in a person at age 27.