The Houston Astros are making sure they keep infielder Alex Bregman by resigning him with a $100M deal for 6 years.
Alex Bregman has been making headlines with the Astros-nomical deal…
CelebNSports247.com reports the Houston Astros are making sure to keep Alex Bregman with a sweet deal totaling $100 million dollars for 6 years.
It looks like a good deal for both sides. Alex Bregman gets paid, the team wraps up an All-Star player in his prime, and they can buy out the contract after two free agent years.
This is a win-win.
Here is the breakdown of Alex Bergman's deal with the Astros:
Bregman will be paid $11MM annually from 2020-22 before earning $28.5MM in both 2023 and 2024, ESPN's Jeff Passan reports. He also has a 10-team no-trade clause for the 2023-24 seasons.
March 20: The deal includes a $10MM signing bonus, per Jon Heyman of MLB Network (via Twitter). That's unusual for a pre-arb contract; Heyman even suggests it may be unprecedented.
Bregman can also boost his salary through escalators based upon MVP award finishes, the details of which are not yet known.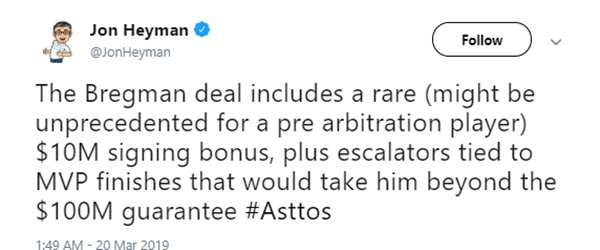 The new contract does not override Bregman's 2019 salary, but it does cover his three arbitration seasons and what would have been his first two free-agent seasons.
Mark Berman of FOX 26 Houston confirms That contract covers the current season, three arbitration years and what would've been the first two free-agent seasons for Bregman: