Andy Ruiz went for Anthony Joshua's glass jaw and took down the heavyweight champion!
We are still in shock because this was surely an upset. Read on to get more details on Anthony Joshua losing to Andy Ruiz Jr. but keeping things professional…
WE HAVE A FIGHT ON OUR HANDS LADIES AND GENTLEMEN!#JoshuaRuiz pic.twitter.com/Kf4zJBebne

— DAZN USA (@DAZN_USA) June 2, 2019
CelebNSports247.com reports Andy Ruiz Jr. etched his name in boxing history on Saturday alongside the likes of Buster Douglas and James J. Braddock.
Andy Ruiz Jr. is the new reigning IBF, WBA, and WBO heavyweight champion of the world after taking down British boxing sensation Anthony Joshua on a seventh-round TKO.
What is crazy about this is that Anthony Joshua, a chiseled, towering, undefeated British world heavyweight champion with a wide grin and an easy disposition. But his boxing career just hit a wall on Saturday night when Ruiz Jr. scored a spectacular upset with a technical knockout after the referee stopped the fight in the 7thr round.
Ruiz Jr. did what no one has done to Joshua and that was to go for the head and the face. Check out how Ruiz goes in on Joshua who is gassed and tired.
Watch the upset if full effect as Anthony had enough. SMH
Andy F—ING RUIZ JR. #JoshuaRuiz pic.twitter.com/bjjNhWlbTD

— DAZN USA (@DAZN_USA) June 2, 2019
The doughy Mexican-American fighter Andy Ruiz Jr.who more than likely eats a Snickers before his fights is now the champ. Ruiz, 29, who became the first fighter of Mexican descent to win the world heavyweight title said:
I wanted to prove everybody wrong, all the doubters thinking I was going to lose. I can't believe I just made my dreams come true.
This fight echoed upset fight when Buster Douglas's shocking knockout of Mike Tyson nearly 30 years ago, and it ruffled the top of the heavyweight division.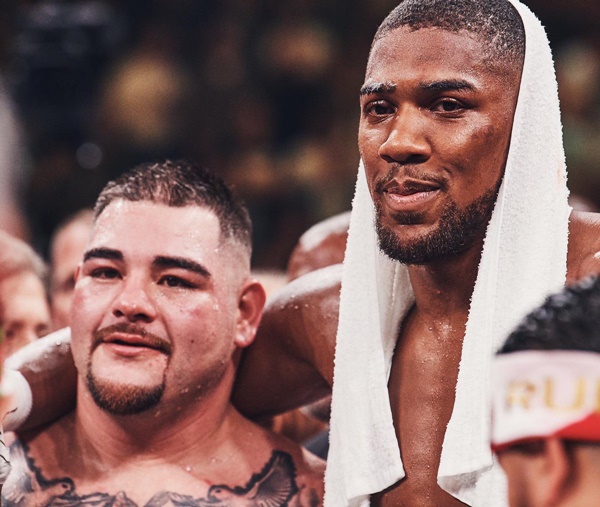 Joshua, 29, embraced Ruiz in the ring after the fight, posed with him for a picture and smiled. And at 1:40 a.m. on Sunday, long after the fans had cleared out
Here is what Joshua had to say on social media following the fight:
This is Andy's night, congratulations Champ ?? pic.twitter.com/5gE8uFx4MG

— Anthony Joshua (@anthonyfjoshua) June 2, 2019
The vision remains the same! Thank you to everyone who travelled, MSG was lively! #TeamAJ pic.twitter.com/vVVgmXcyXw

— Anthony Joshua (@anthonyfjoshua) June 2, 2019
Joshua is a muscled God, so what happened?