Antonio Brown is one of the best wide receivers in the NFL today. The newly added Oakland Raiders star has been making headlines over his feet and issues with his helmet.
Now, Antonio Brown officially announces his next move, addresses the feet issue and has apparently solved his helmet issue. Read on…
CelebNSports247.com reports that Antonio Brown is carving his own path as he always does, announcing his next move. There have been plenty of rumors over the past week about his retiring over not being able to wear his helmet.
Antonio Brown is now setting the record straight regarding his frostbitten feet. Brown has been battling frostbite ever since he suffered a mishap in a cryotherapy chamber
First, AB has broken his silence to the media regarding his feet being in severe pain after he returned to Raiders camp in Napa, Calif. on Tuesday. AB says the blisters are making it hard for him to play football.
Brown said:
It's been a process with the feet. Anytime you got a lot of blisters, it's hard to change direction, cut and run and be able to do what I do naturally.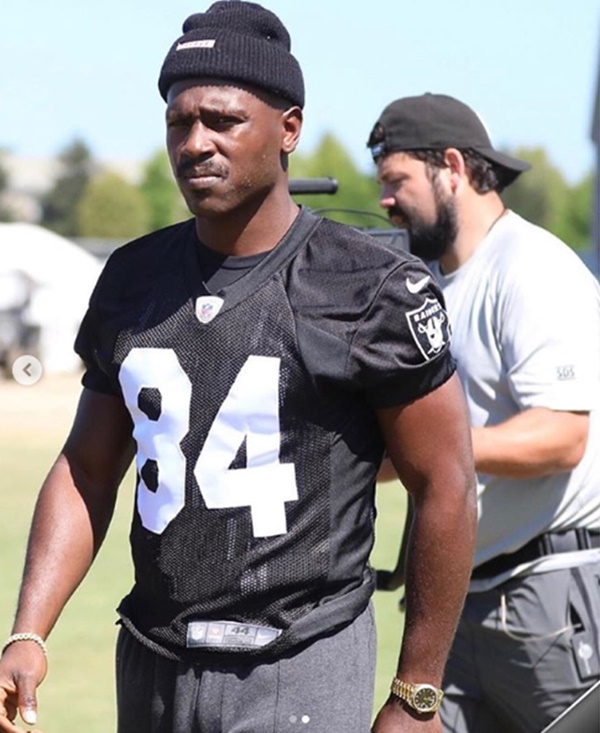 As for his Helmet issue, the Raiders wide receiver launched a search on Twitter on Tuesday, trying to find a football helmet he can wear.
Brown tweeted:
I'm looking for a Schutt Air Advantage Adult Large Helmet that was manufactured in 2010 or after. In exchange, I will trade a signed practice worn @Raiders helmet.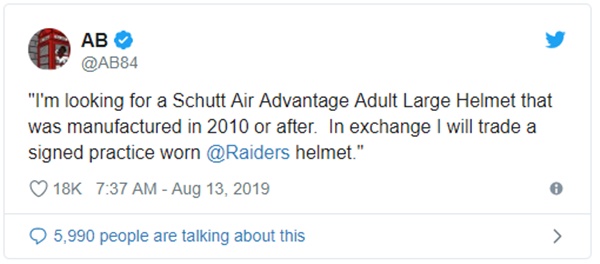 Despite a ton of sarcastic remarks by social media, it appears that Brown may have found a solution.
ESPN reports that Antonio Brown has found a helmet that will work for him.
AB may have found a compromise on his helmet issue seemingly insight while his frostbitten feet continuing to heal. According to reports, the four-time All-Pro receiver came out to the field at 11:05 a.m. PT, about 15 minutes before practice ended.
Brown said:
I'm extremely grateful to be here. Been dealing with a lot of adversity. I'm excited to be back, see my teammates, and get in the groove of things.
We are glad things are working out. That is some special sauce we'd love to get.