Antonio Brown is calling BS on the sexual assault accusations and he has good reason to!
On Tuesday, the newly signed New England Patriots wide receiver found out he was being sued by a woman who claims he sexually assaulted and raped her during three separate encounters. The problem is the incidents allegeldy took place over 2 years ago, so why now? Read on for the details on why Antonio Brown is planning to countersue his former trainer for extortion…
STATEMENT REGARDING ANTONIO BROWN: https://t.co/yvEcRyilbt pic.twitter.com/0K9G8vJeG1

— Darren Heitner (@DarrenHeitner) September 11, 2019
CelebNSports247.com is actually on Antonio Brown's side on this one, especially since the woman, who has been identified as Britney Taylor, the personal trainer AB hired.
The reason why her claims are NOT adding up is simple – why wait 2 years after the incident with Antonio Brown? The second, why wait until now, could it be that he is back in Boston to play with the Patriots?
Is she going to run into him again or something? It's doubtful, but you never know. It just seems really odd that Britney would file a lawsuit against Brown shortly after the news broke that he signed with the Patriots for $15M with a guarantee of $9M.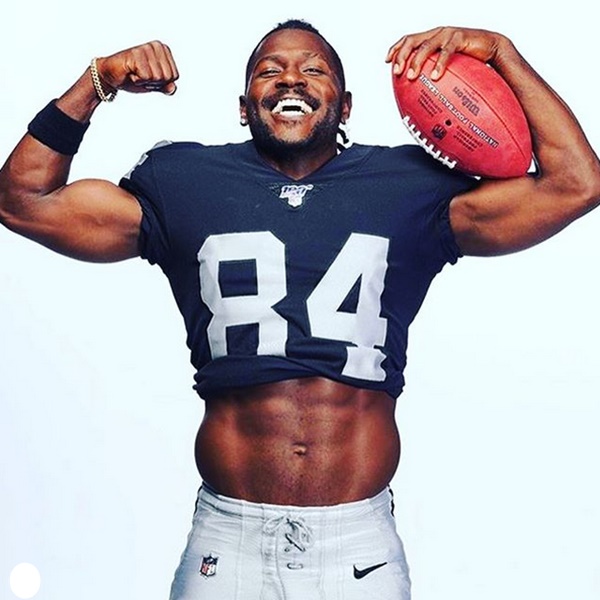 Something STINKS about this lawsuit and her name is Britney Taylor.
It appears AB's legal team agrees since they released a statement that denied all 3 accusations against him:
Mr. Brown denies each and every allegation in the lawsuit. He will pursue all legal remedies to not only clear his name, but to also protect other professional athletes against false accusations. Mr. Brown was approached by his accuser in 2017, shortly after Mr. Brown signed a contract making him the highest-paid wide receiver in the NFL. At that time, Mr. Brown was asked to invest $1.6 million dollars in the accuser's business project. Mr. Brown was not informed by his accuser that she had just been levied with a $30,000 IRS tax lien or that $300,000 of the $1.6 million so-called "investment" was to be used to purchase property already owned by the accuser and her mother. When Mr. Brown refused to make the $1.6 million "investment," the accuser supposedly cut off communications with Mr. Brown. However, in 2018, the accuser resurfaced and offered to travel to Pennsylvania and South Florida to train Mr. Brown for the upcoming season.
Soon after that, ESPN's Josina Anderson revealed Brown was planning on countersuing his accuser for extortion.
Taylor claims the first incident happened in June 201:
Brown exposed himself and kissed [her] without her consent.
The second time it happened:
"Later that month, Brown, while positioned behind her, began masturbating near her without her knowledge and ejaculated on her back." Nearly a year later "Brown cornered [her] forced her down onto a bed, pushed her face into the mattress, and forcibly raped her."
Next, Britney dropped some text messages from the Patriots WR, that are also two years old. No matter how she spins this – things like this don't happen unless it was consensual. This is why ABs legal team is calling her bluff stating "Extortion!"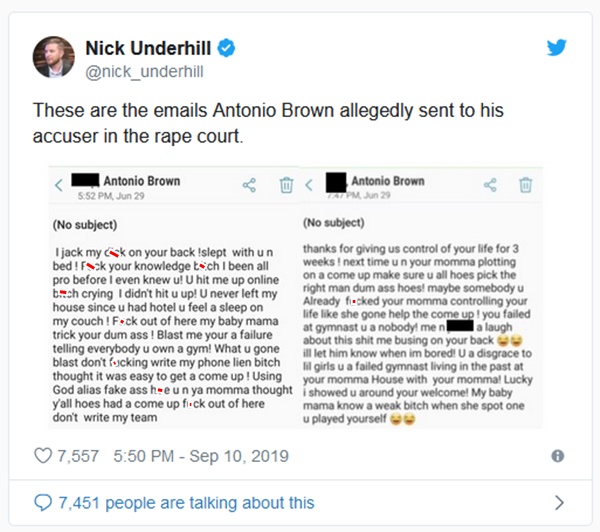 Lets not forget the Patriots also released a statement of denial.