The Pittsburgh Steelers Antonio Brown saga appeared to hit a potential lull until AB decided to tweet through it and things got a little weird.
Read on to see what Pittsburgh Steelers Antonio Brown said to Bruce Arians…
CelebNSports247.com reports that Tampa Bay Buccaneers coach Bruce Arians got a Tweet full from Steelers wide receiver Antonio Brown after he was called a "DIVA."
Why Antonio Brown was Triggered by Buccaneers Coach Bruce Arians:
Arians said Tuesday on The Adam Schefter Podcast via ESPN:
There's too much miscommunication, too much … diva. I've heard so many stories — I like Antonio — he plays as hard as anybody on Sunday, and he practices hard. He's just gotta make better decisions off the field, be on time, do some of those little things.
Bruce Arians remember Antonio Brown as a legitimate weapon back in the day.
Arians told Schefter that the Brown he's seeing today is not who he saw when the team drafted the wide receiver in 2010, stating:
He was the hardest working. He and Emmanuel Sanders, boy they went after it because [Steelers head coach] Mike Tomlin used to tell them, 'Two dogs, one bone.' And at that time, we had Mike Wallace, Hines Ward — I mean, we had a pretty good run for one of them to get on the field. By the end of the season, they were both winning for us to go to the Super Bowl.
Back in 2010, AB was hungry and wanted to make a name for himself. These days he's one of the most talked about players and he's become comfortable. Many call him selfish, but the drive is more of cruise these days, though he still brings it when needed.
Arians feels that Brown lives in the Kevin Durant "Petty Zone."
This is why AB was triggered and sounded off on social media in the direction of Arians and former Steelers receiver Emmanuel Sanders, now with the Broncos.
Antonio said:
He didn't draft me he drafted @ESanders_10 same guy who missed rehab to go on networks to talk about me on situation he have zero clue! Arians now wears kangoo hats n glasses ? but ima diva! Done seen it all then they say we friends stop lien.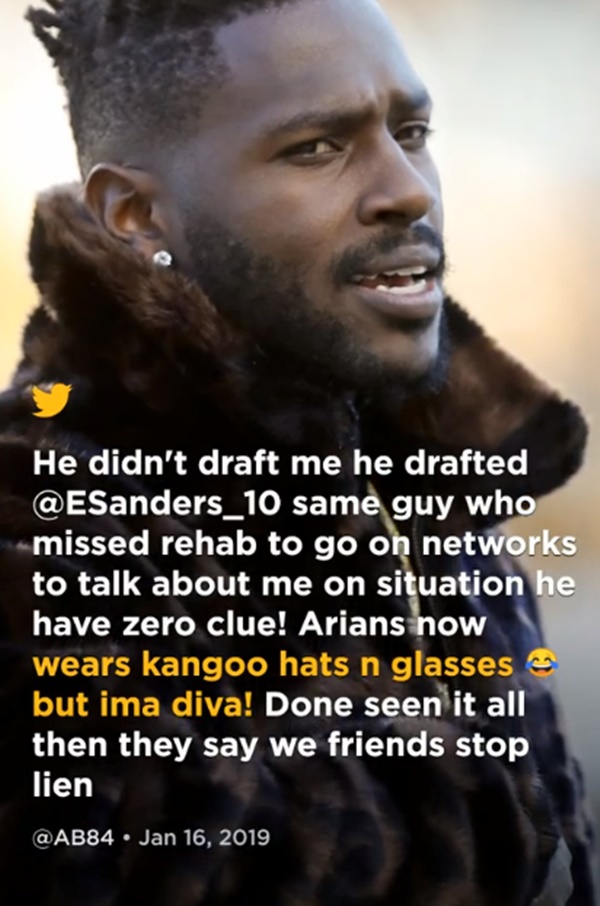 Brown more or less called Sanders a hypocrite for skipping rehab to appear on NFL Network and say Brown disrespected the Steelers.
Sanders FIRED BACK: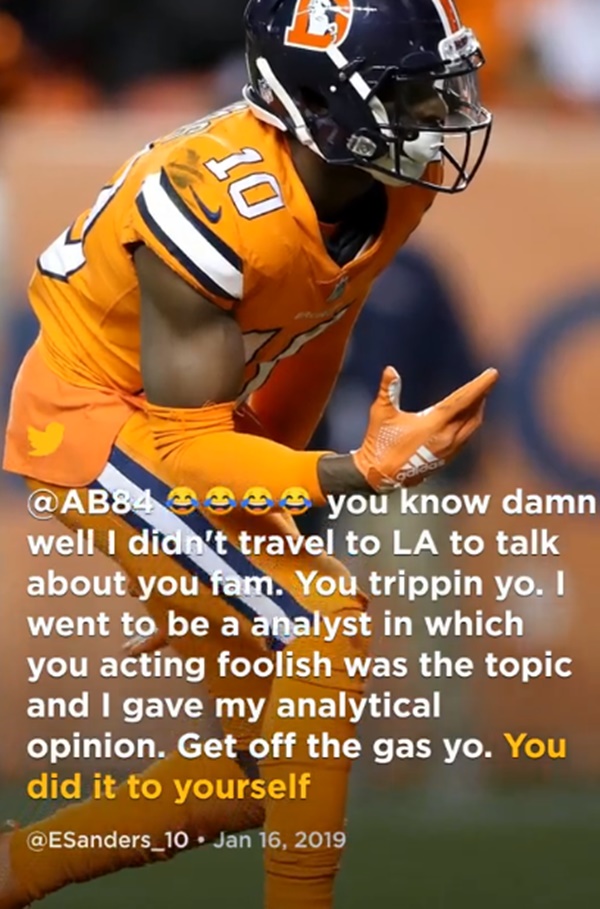 Since the disastrous Week 17 AWOL situation involving Brown and the Steelers, cooler heads could prevail which means that the team could press on with Brown by keeping him on the roster rather instead of a trade.
Fellow wide receiver Michael Anthony Sims-Walker, who recently played for the Canadian Football League's Winnipeg Blue Bombers thanked AB for standing up.
The former Jacksonville Jaguars Sims-Walker said:
Thank you @AB84 for standing up for yourself! It's a lot of robots in the league that don't have the nuts! Can't wait for this interview.