Oakland Raiders superstar receiver Antonio Brown has reached a settlement in a lawsuit alleging that the NFL star was throwing furniture off the balcony of a high-end apartment complex last year.
Well, Antonio Brown let everyone know the lawsuit was settled on Twitter, but as fast as it was posted he took it down. Read on…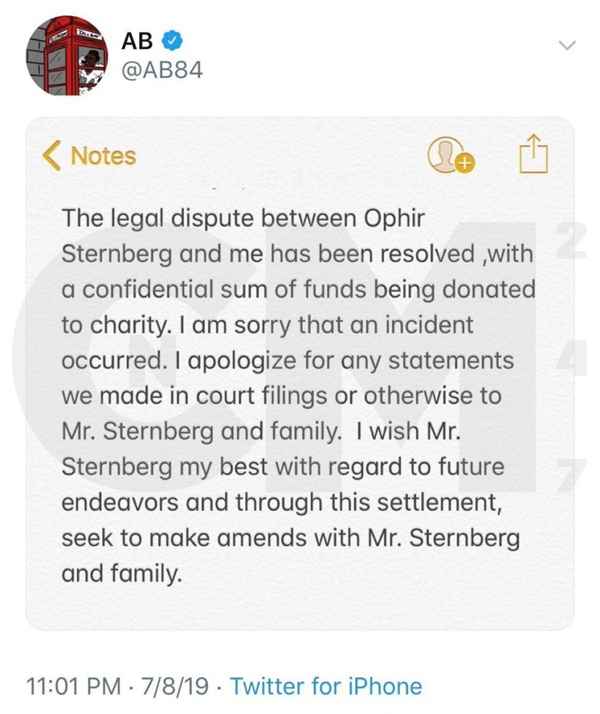 CelebNSports247.com has Antonio Brown's infamous tweet/delete the results of the furniture tossing lawsuit from last year.
We previously reported that AB's furniture lawsuit was settled.
Antonio Brown tweets:
The legal dispute between Ophir Sternberg and me has been resolved with a confidential sum of funds being donated to a charity. I am sorry that an incident occurred. I apologize for any statements we made in court filings or otherwise to Mr. Sternberg my best with regard to future endeavors and through this settlement, seek to make amends with Mr. Sternberg and family
What we have learned is that Antonio Brown said he donated a "confidential sum of funds" to a charity and wished Sternberg well.
TMZ reports:
Now, new court docs, obtained by TMZ Sports, show part of the settlement includes Brown making a contribution to Ophir's son's college fund.

"The net proceeds to the minor will be invested into Florida Prepaid College for the minor's sole benefit," the docs read.
The docs do not say how much cash Brown will contribute to the fund — but we're told both sides are happy with the agreement.
There never seems to be a boring day when you're Antonio Brown.
For the 4th of July, AB was hanging with DJ Khaled at the Khalid estate:
View this post on Instagram