CelebNSports247.com reports that the Washington Redskins had a group of veteran quarterbacks to come in and work out for the team.
Read on to see what the Reskins did to prove they are still blackballing veteran QB Colin Kaepernick from getting back in the NFL…
CelebNSports has the latest on the Washington Redskins who recently held a veteran quarterback tryout to replace Alex Smith while he recovers from his gruesome leg injury.
Ian Rapaport Tweeted:
The #Redskins are having a group of veteran FA QBs come in and work out tomorrow following the season-ending injury to Alex Smith: EJ Manuel, Kellen Clemens, Mark Sanchez, and TJ Yates, sources say. They need a backup.
Notice how the Redskins didn't invite Colin Kaepernick?
Anyways, Former Pro Bowl cornerback Antonio Cromartie feels Kaepernick is better than any of the aforementioned quarterbacks.
He took to social media shortly after the announcement to put the league on blast about clearly blackballing the former San Francisco 49ers QB and the Redskins were proving that.
Cromartie tweeted:
No @Kaepernick7 shows you how @NFL continue to blackball him. I'm sorry but none of these QB's are better than Kap. #ImWithKap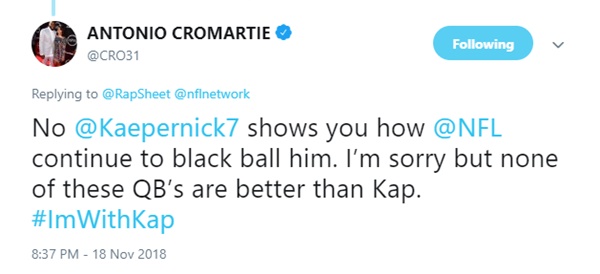 Just another bit of proof that the NFL is blackballing Kaepernick and NOT being honest about their actions. They are starting to sound like Trump with his constant FAKE NEWS remarks when he denies the truth of his actions. #SMH
Nothing but #FACTS is coming from TPS, who posted the tea first about the NFL still blackballing Kaepernick.
Thoughts?