This is surely an EPIC trade if it happens. We are hearing that a Ben Simmons, LeBron James is possibly in the works.
If the Philadelphia 76ers are looking to beef things up with LeBron James by trading Ben Simmons. This would trade absolutely reshape the entire league, but maybe a shakeup could work. Read on…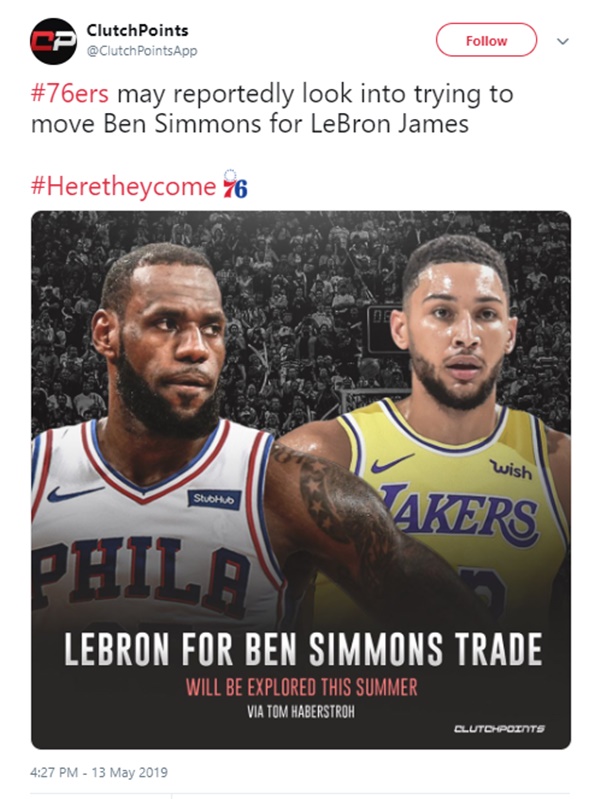 CelebNSports247.com reports now that the Philadelphia 76ers have been eliminated from the playoffs, there are a ton of rumors surrounding the team and its players.
One of the main rumors has been that the 76ers want to trade Ben Simmons for LeBron James.
This means that Ben Simmons will become one of the Los Angeles Lakers and be closer to his on and off again gal Kendell Jenner. As for LeBron James, he can once again start fresh with the Philadelphia 76ers and get a shot in the 2019/20 NBA season for a ring.
Not to mention, 76ers Simmons can't shoot a three-point shot to save his life because of his size and skill set, and his game conflicts with that of Joel Embiid. This would alleviate the tension.
NBC Sports' Tom Haberstroh wrote a recent article stating that some unnamed executives around the league believe LeBron James might be the 76ers target and that a trade could be made in the Summer. it's been said that LeBron is unhappy with the Lakers front office?
Haberstroh wrote:
It's early in that process. Leonard's shot just fell through the net. But one Western Conference executive brought up a name that could be a Simmons trade target: LeBron James. 'I think they very well might explore that,' said a rival executive of Philadelphia.
We will keep you posted if this develops…