The Sixers Ben Simmons may have lost for the second time to LeBron James and the Cleveland Cavaliers on Saturday night. The 6'10" rookie point-guard from Australia, has often been compared to King James.
Ben Simmons has been the talk over the past year after we caught Ben Simmons flaunting his hot girlfriend on social media. this summer.  Now, people are talking that he has star-like swagger Like LeBron James. Read on to see why…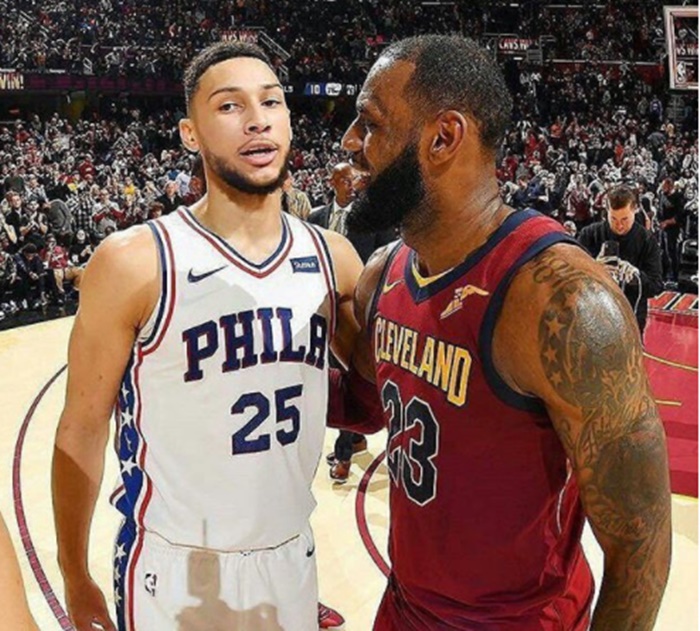 CelebNSports247.com has the latest on the 21-year-old Melbourn Australia born Philadelphia 76ers Ben Simmons continues to dominate on the courts.
On Saturday night, Ben Simmons had an impressive 14 points on 7-13 shooting, 10 assists, and six rebounds in the 105-98 loss. Despite LeBron James who racked up a ridiculous 30 points, 13 rebounds, and 13 assists. It was LeBron's 58th career triple-double, something Simmons has already 3 times in his first 25 games.
Why is Ben Simmons being compared to LeBron James?
Well, it breaks down to this, his size, speed, strength, basketball IQ, vision, and unselfishness, just to name a few things. Not to mention, Simmons is repped by Klutch Sports which also represents James and is run by his childhood friend Rich Paul.
To add to his achievements, Ben and LeBron have gotten close during Simmons' journey to the NBA. Then, after Saturday's game on James gave Simmons a shoutout on Instagram.
[rpi]
King James was seen calling Ben a Young King:
"Keep going! Accept nothing less than being great! Anything else is not warranted. #striveforgreatness? #youngking?"

Then, Sporting News added Ben Simmons to their ranked the 50 best Australian athletes and he grabbed  the number one spot ahead of some of Australia's brightest young talents. The list includes; Rugby League star Tom Trbojevic (21), Tennis sensation Ash Barty (21) and Olympic Swimmer Mack Horton (21).
Simmons is averaging 18 points, 9.2 rebounds, 7.7 assists and 2.1 steals per game for the Philadelphia 76ers.