What in the heck is going on? The New England Patriots are heading back to the super bowl against the Philadelphia Eagles, but not without this big Oops!
Yes, this happened. A Boston Television station congratulated the Patriots win, but with a Aaron Hernandez photo? Yikes, somebody may be losing their job. Read on…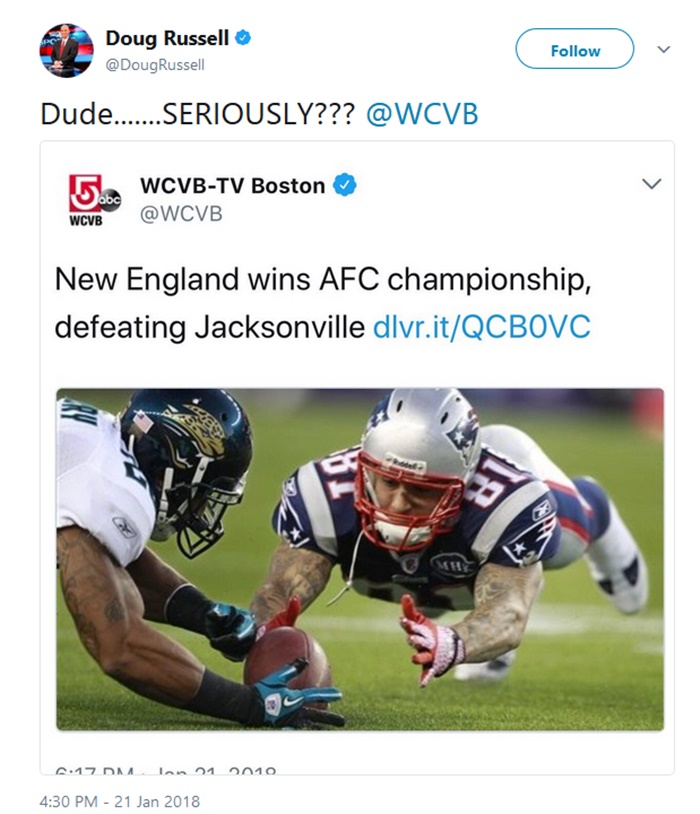 CelebNSports247.com has the latest mistake from Boston Television station, WCVB, who used a photo of the late Aaron Hernandez who took his life last year.
Here is the what we've learned:
A news service that provides WCVB some digital content accidentally posted a pic of Aaron Hernandez in connection w/Pats AFC champ. The photo was posted on WCVB social media, but fans quickly caught the EPIC MISTAKE by the station.

See WCVB in Boston sent out a tweet about the Patriots' victor. The only problem is that they used this photo of Aaron Hernandez in the prime of his career as a New England Patriots tight end. We have to admit that Hernandez was one of the teams best players, but his life off the field was murderous. He was sentenced to life for murder, and last year the 27-year-old former NFL star took his own life by suicide in prison.
[rpi]
The photo that got posted was an EPIC FAIL. And of course, the station blamed it on a third party providing the content.
The photo has since been deleted. Luckily we have a snapshot of the mistake. Don't you love Twitter feeds?