If this was a battle of the genital then boxer David Allen is hands down the winner for most impressive cock at a battle!!!
Flip and see David Allen's genital intimidation tactics at a weigh-in for his fight in London…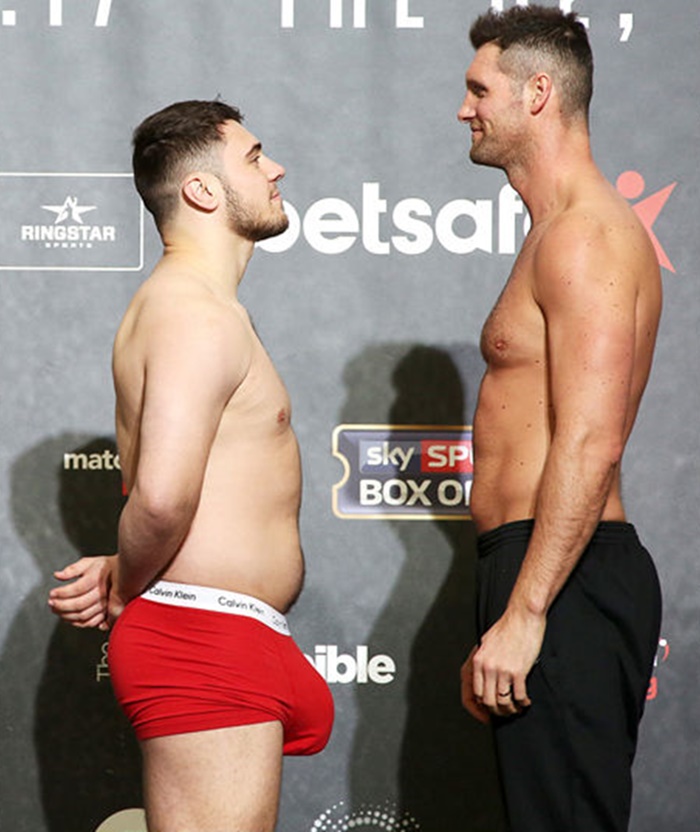 Sorry David Howe it appears you brought a cocktail wiener to the weigh in because David Allen has man meat for days.
Like Biggie once said, David Allen "has enough to feed the needy."
David Allen vs David Howe is going down at the O2 Arena this weekend, we just hope that Allen doesn't trip over his elephant trunk. If there are any ladies out there looking for an e-ticket attraction it appears that David is one ride that will have you weak in the knees.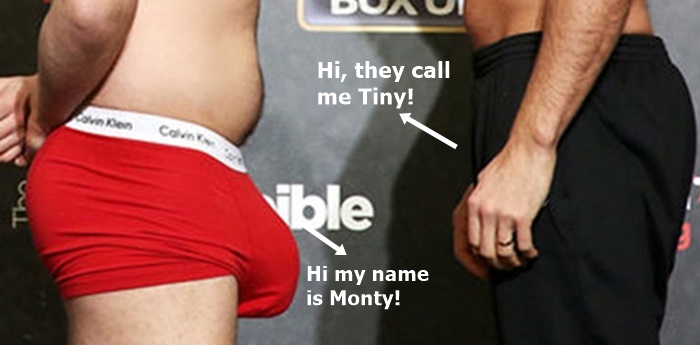 We have to agree with one twitter follower who stated that he has a PornHub winning penis! It's an award winner! If you happen to live in England and like a well endowed man, then David Allen is the one to go for. He can rumble in the ring and take you on a thrilling adventure in the bed.
We recommend lots of stretching and breathing exercises before taking on the Anaconda. It way bigger than a python and thicker that a Boa. And like all huge snakes this one too spits.
We're hearing that Allen's impressive man meat is FAKE NEWS per The SUN. But David Allen took to twitter to weigh in saying:
The "24-year-old had shoved what we can only suggest might be socks, down inside the front of his boxer shots."
As for the SUN, here is what he had to say about them:
"Glad my nannan isn't an idiot who reads the sun because she would definitley be having a heart attack opening paper up too this ??"
He adds after the said he stuffed his pants:
"Just so people know I don't have the iq of a lettuce I don't buy the sun and I don't read the sun!"
He made jokes about have the FULL MONTY: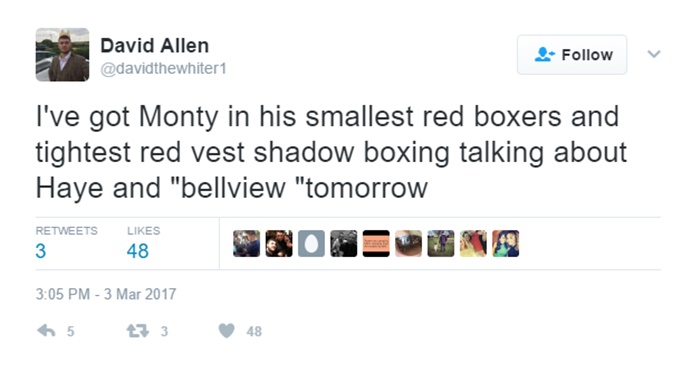 Nah for real, here is David's weigh in attire. He posted this on Twitter: