The Brooklyn Nets are oing whatever it takes to get Golden State Warriors Kevin Durant.
Read on becuase we are hearing that the Brooklyn Nets are trying to pull out all the stops to lure Kevin Durant to sign…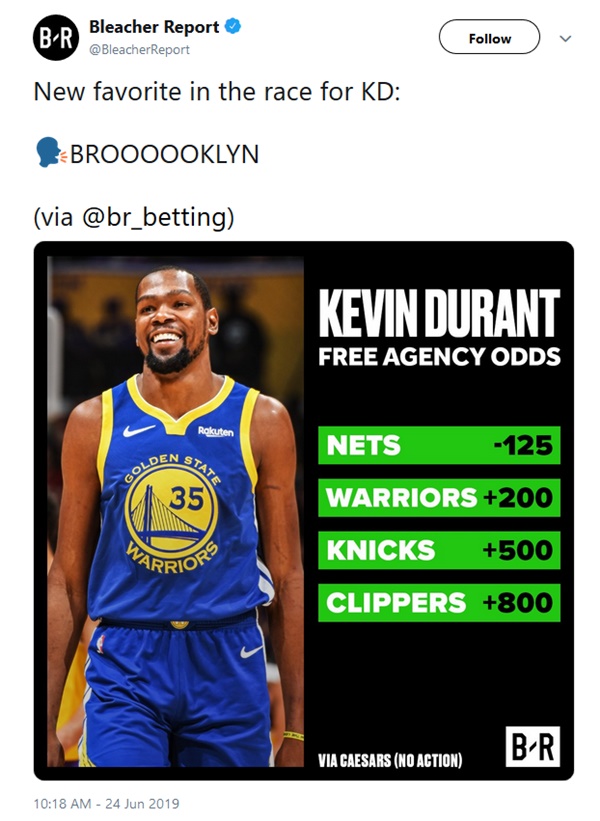 CelebNSports247.com has learned that All last season, we heard non-stop talk about Kevin Durant possibly joining the New York Knicks during the offseason, but that conversation has quickly changed.
Now that Kevin Durant is recovering after he tore his Achilles tendon after attempting to make a comeback in Game 5 of th NBA Finals. KD is fully expected to miss the entire 2019-2020 season, but he is still at the top of everybody's wish list this offseason.
Which leads us to the latest report that the Brooklyn Nets have become the odds on favorite to land Durant in free agency, according to Bleacher Report.
What we are hearing is that the Nets are trying to hit him in the heart by trying to sign DeAndre Jordan to the team. The reason on signing Jordan is that he is good friends with Durant and it might be the levegare the Brooklyn Nets need.
Marc Stein reports:
The Nets are exploring the feasibility of signing Kevin Durant's close friend DeAndre Jordan in free agency, league sources say, in hopes that would make the prospect of teaming up in Brooklyn with Kyrie Irving even more enticing to Durant.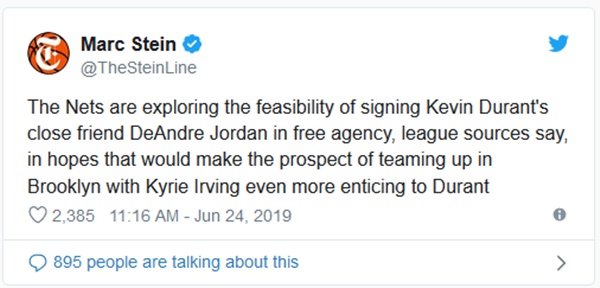 The Nets are reportedly hesitant to bring Kyrie Irving on to the team without him bringing Durant right along with him.