On Saturday, the Washington Nationals and Bryce Harper announced that they had reached a deal to avoid arbitration in 2018. Bryce Harper knocked one out of the park to celebrate his new contract.
What better way to celebrate a great day in sports? Read on about Bryce Harper…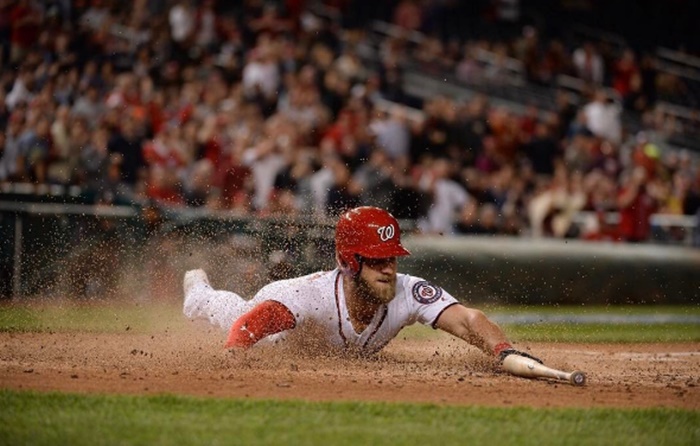 CelebNSports247.com has learned that Bryce Harper just landed himself a one year $21.65 million dollar extension that will keep Harper in Washington through the 2018 season.
Not to shabby!
The cool thing about this deal is that Bryce Harper deal is the largest one year deal ever handed out for an arbitration eligible player. Get this, if Harper wins the MVP Award he'll tack on another $1 million.
It appears that the MLB can't hand out money fast enough, so you can understand Bryce's level of excitement.
What a day for Bryce! MLB Tweeted:
"He celebrated a New contract and a #walkoff homer? That's a nice little Saturday !"
New contract and a #walkoff homer?

That's a nice little Saturday for @Bharper3407. pic.twitter.com/B2OU9cUXyD

— MLB (@MLB) May 14, 2017
What is really cool about his deal is that he is still in his twenties while he is raking in the cash.  See, Bryce will  turn 26 two weeks before becoming a free agent. Basically, this means that a seven-year contract wouldn't be over until he was theoretically still in his prime.
[rpi]
Plus, Harper is expected to get far, far more than seven years. All major free-agent contracts extend for two or three years too long — think Robinson Cano . That is the accepted cost of getting those prime years.
Congrats Bryce Harper on your success!
What do you think about Harper's deal?