Unified world champion Canelo Alvarez answers Middleweight world titlist Demetrius Andrade for a fight.
Eric Gomez, the president of Alvarez promoter Golden Boy Promotions, exchanged messages with Andrade promoter Eddie Hearn of Matchroom Boxing and it appears they setting up a fight. Read on to get more as Canelo Alvarez Sets Fight Against Demetrius Andrade…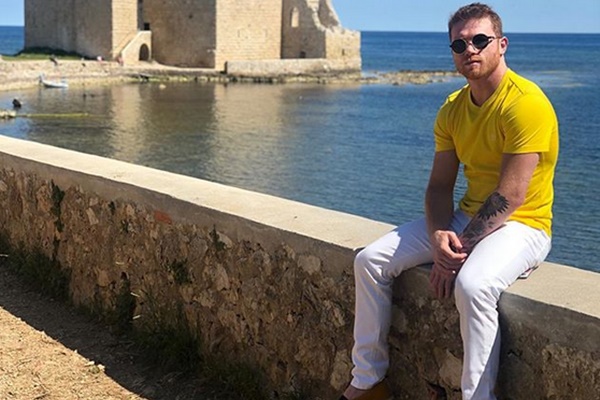 CelebNSports247.com has learned that Golden Boy Promotions and Matchroom Boxing had a conversation on the phone Wednesday to gauge Andrade's interest in facing Alvarez on Sept. 14.
Golden Boy Promotions has planned Canelo Alvarez's next fight to go down on the Mexican Independence Day weekend.
A fight between Demetrius Andrade and Canelo would be EPIC.
This is the fight that Andrade wanted. He said it repeatedly before scoring a first-round knockdown and rolling to a shutout victory over Polish contender Maciej Sulecki.
Boo Boo has willed the fight against Canelo into fruition.
Hearn told ESPN on Wednesday.
I spoke with Eric Gomez and [Golden Boy matchmaker] Robert Diaz and they asked if Demetrius would be available to fight Canelo in September. The answer is a big yes and although I don't think we are the first choice, it's the undisputed fight and one Demetrius would be 100 percent ready for. We will see what happens over the next few days.
Gomez acknowledged the discussion with Hearn but said Alvarez also has other options.
Eric told ESPN:
Yes, I had a conversation with Eddie. I've had conversations with few people about opponents. There are a few options out there for Canelo. We're checking out everything. Canelo has a few options and we're exploring all of the options and will make a decision soon.
Being that "Canelo wants to fight the best" and with Gomez feeling that Andrade was a "viable opponent," they're "giving him a few options so he can make a final decision." He adds "Alvarez is in the loop on everything."
Alvarez trainer Eddy Reynoso and his father, Alvarez manager and assistant trainer Chepo Reynoso, watched Andrade-Sulecki on Saturday night and gave the thumbs-up to pursue a possible fight with Andrade (28-0, 17 KOs), a 31-year-old southpaw fighter.
Andrade is like Alvarez, being affiliated with broadcaster DAZN, making a deal relatively easy to make.
Gomez feels that "there's interest" there.
Golden Boy and Hearn have a history of making deals, including for Alvarez bouts. They were able to make deals for his last two fights, when Alvarez faced Daniel Jacobs in a title unification bout on May 4 and Rocky Fielding in a secondary super middleweight title fight in December.
Alvarez (52-1-2, 35 KOs), 28, of Mexico, held three of them but then was stripped last week by the WBC, which said it was "elevating" him to a new designation called "franchise champion" while also elevating interim titlist Jermall Charlo to the organization's world titleholder.